Are you looking for Copenhagen bike tours? Copenhagen is renowned for its bike culture, and it's considered one of the most bike-friendly cities in the world. Let's explore the wonderful city of Copenhagen and its unique relationship with biking. Copenhagen is a city that's often associated with bicycles, and for good reason – it's a city where bikes outnumber cars, and where cycling is a way of life for many residents.
With its flat terrain, extensive bike lanes, and bike-friendly culture, Copenhagen has become a model for cities around the world looking to reduce traffic congestion, promote sustainable transportation, and create healthier and more livable urban environments. In this blog, we'll delve into bike tours in Copenhagen, what you can expect to see and experience. We'll also talk about bike rentals and more.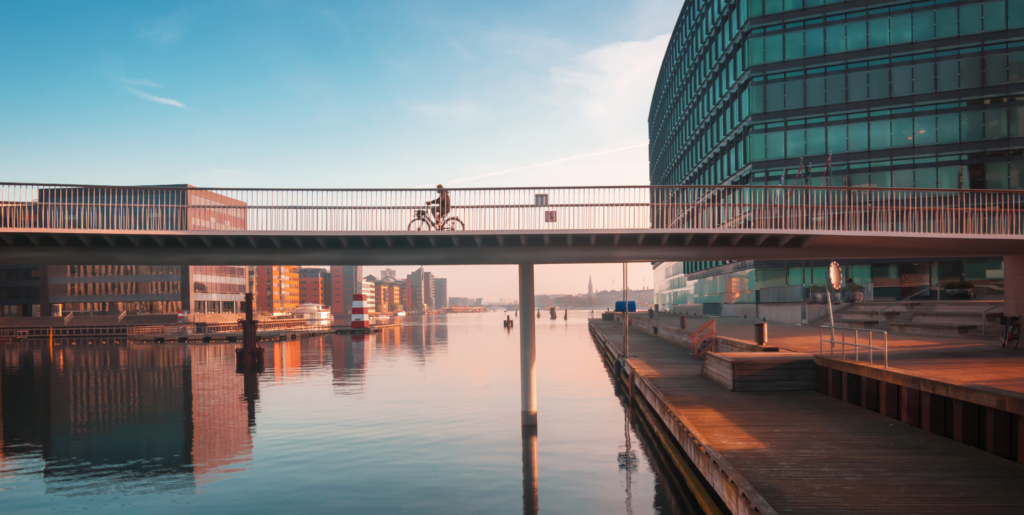 Copenhagen Bike Infrastructure
Copenhagen is famous for its bike infrastructure. It was designed to make cycling a safe and convenient mode of transportation for residents and visitors alike. Here are some key features of Copenhagen's bike infrastructure:
Dedicated bike lanes: Copenhagen has an extensive network of dedicated bike lanes. Most are separated from car traffic by physical barriers, such as curbs or planters. This makes cycling safe and comfortable, even in heavy traffic.
Bicycle bridges: Copenhagen has several bike-only bridges, such as the Cykelslangen ("Bicycle Snake") and the Inner Harbour Bridge. These connect different parts of the city and provide easy access for cyclists.
Intersection design: Many intersections in Copenhagen have been redesigned to prioritize cyclists, with dedicated traffic signals and bike-specific turning lanes. This makes it easy and safe for cyclists to navigate busy intersections.
Green wave: Copenhagen has implemented a "green wave" system for cyclists. This system synchronizes traffic signals on popular bike routes to allow cyclists to ride through several intersections without stopping.
Bike parking: With so many people cycling, bike parking can be a challenge in Copenhagen. However, the city has invested in bike parking infrastructure, with bike racks, parking garages, and even a "bicycle hotel" where you can store your bike securely overnight.
Bike-friendly policies: The city government in Copenhagen has implemented several policies to encourage cycling. Some examples would be subsidies for bike purchases, priority at intersections, and low-speed limits in residential areas.
Overall, Copenhagen's bike infrastructure is designed to make cycling a safe, convenient, and enjoyable mode of transportation. Whether you're a seasoned cyclist or a beginner, you'll find that the city's bike infrastructure makes it easy to get around by bike.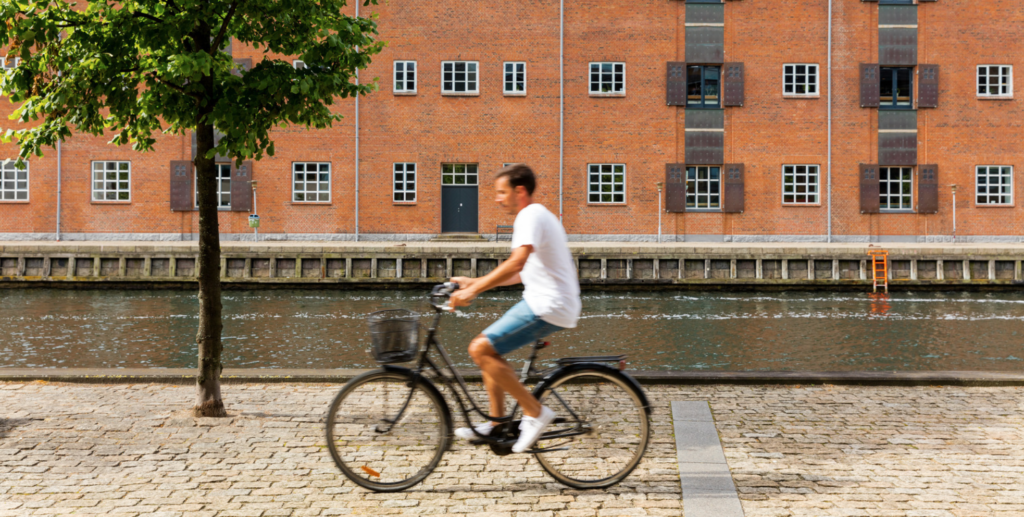 What to Expect on Copenhagen Bike Tours
City sightseeing bike tours in Copenhagen are a popular way to explore the city's main attractions, landmarks, and historic sites. Combining a tour with some exercise and fresh air is a great concept. Here are some features and highlights of these tours:
Experienced guides: City sightseeing bike tours are led by experienced guides, knowledgeable about Copenhagen's history, culture, and architecture. They provide commentary and interesting facts about each stop.
Bike rental included: Most city sightseeing bike tours include the rental of a comfortable, sturdy bike, as well as a helmet and a safety vest. Some tours may also provide bikes with electric assist, which can be helpful if you're not used to cycling long distances.
Popular attractions: City sightseeing bike tours typically cover the most popular tourist attractions in Copenhagen, such as the Little Mermaid statue, the Tivoli Gardens, the Amalienborg Palace, and the Christiansborg Palace. The guides will take you through the best routes and bike paths to get to each location.
Fun and engaging: City sightseeing bike tours are designed to be fun and engaging. Offering a unique way to see Copenhagen. You'll get a sense of the city's bike culture and experience the sights and sounds of Copenhagen up close and personal.
If you're a first-time visitor, a bike tour can be a fun and informative way to experience Copenhagen's unique culture and history.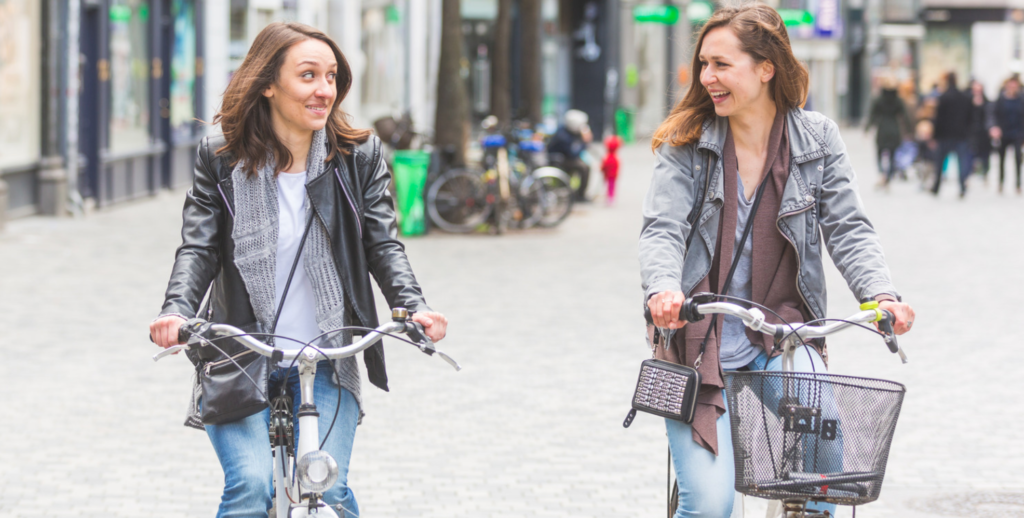 Copenhagen Bike Tours
There are many bike tours available, allowing you to see Copenhagen's highlights and learn about its history and culture. Here are a few different types of bike tours you can take in Copenhagen:
City Sightseeing Tours
City sightseeing bike tours take you through Copenhagen's most popular tourist attractions. You can expect to see the Little Mermaid statue, the Tivoli Gardens, and the Nyhavn harbor area. These tours typically last 2-3 hours and are led by experienced guides who provide great information on the city's history and landmarks. 
Food and Drink Tours
Copenhagen is known for its culinary scene, and bike tours focused on food and drink allow you to sample some of the city's best bites and beverages. You can try Danish pastries, visit local markets, and sample craft beers at local breweries.
Neighborhood Bike Tours
Neighborhood bike tours take you off the beaten path and allow you to explore Copenhagen's lesser-known areas. You can visit trendy neighborhoods like Vesterbro or Nørrebro, or explore the city's green spaces, such as Fælledparken or the Frederiksberg Gardens.
Evening Tours
Copenhagen has a vibrant nightlife, and night bike tours allow you to experience the city after dark. You can ride through the city's illuminated streets, visit bars and clubs, or take a moonlit ride along the waterfront.
Custom Copenhagen Bike Tours
If you have a specific interest or want to explore a particular part of Copenhagen, you can arrange a custom bike tour. Many tour operators offer private tours that can be tailored to your preferences and interests.
Overall, bike tours are a fun and informative way to explore Copenhagen, and there are tours available for every interest and activity level. 
Some Things You Might See on Copenhagen Bike Tours
Copenhagen is perfect for exploring by bike, and there are many sights and attractions to see. Here are some of the top places to visit on a bike tour of Copenhagen:
The Little Mermaid: This iconic statue of a mermaid sitting on a rock is one of Copenhagen's most famous landmarks.
Nyhavn: This picturesque waterfront district is lined with colorful buildings and is a popular spot for locals and tourists alike.
Amalienborg Palace: This is the home of the Danish royal family and consists of four identical palace buildings surrounding a central courtyard.
Tivoli Gardens: This amusement park is one of the oldest in the world and features a variety of rides, attractions, and gardens.
The Round Tower: This 17th-century tower is located in the heart of Copenhagen and offers stunning views of the city from the top.
Christiansborg Palace: This is another royal palace and the seat of the Danish Parliament.
The National Museum: This museum is dedicated to the history and culture of Denmark and features a wide range of exhibits and collections.
The Copenhagen Opera House: This stunning building is located on the waterfront and is known for its striking modern design.
Freetown Christiania: This is a self-governing neighborhood in Copenhagen known for its alternative lifestyle and unique atmosphere.
Bike lanes and parks: Finally, don't forget to explore Copenhagen's extensive network of bike lanes and parks. These are some of the best places to get a sense of the city's bike-friendly culture.

Why a Bike Tour in Copenhagen?
There are many great reasons to do a bike tour in Copenhagen, including:
See the city like a local: Copenhagen is known for its bike-friendly culture, and biking is a popular way to get around the city. By doing a bike tour, you'll experience the city like a local, seeing the sights and sounds of Copenhagen from a unique perspective.

Learn about Copenhagen's history and culture: Copenhagen is a city with a rich history and a vibrant culture. On a bike tour, you'll have the opportunity to learn about the city's past and present, including its famous landmarks, architecture, and people.

Get some exercise: Biking is a great way to get some exercise and fresh air while seeing the city. Copenhagen is a flat city with an extensive network of bike lanes, making it easy and safe to cycle.

An efficient way to see the sights: With a bike tour, you can see many of Copenhagen's famous landmarks and attractions in a short amount of time. This can be particularly helpful if you're only in the city for a few days.

Meet new people: Bike tours can be a fun way to meet new people from all over the world. You'll be cycling with a group of like-minded individuals, and you'll have the opportunity to chat and make new friends.

Renting Bikes in Copenhagen
Renting a bike in Copenhagen is easy and convenient. Here are a few things to keep in mind when renting a bike in Copenhagen:
Availability: There are many bike rental shops throughout Copenhagen, particularly in the city center. During the peak tourist season, book your bike rental in advance to ensure availability.

Price: Bike rental prices in Copenhagen can vary depending on the type of bike you rent and the length of your rental. On average, a basic bike rental for one day can cost between 100-150 DKK (approximately 13-20 USD).

Type of bike: There are many different types of bikes available for rent in Copenhagen, including standard city bikes, electric bikes, cargo bikes, and tandem bikes. Choose a bike that is appropriate for your needs and experience level.

Safety equipment: When renting a bike, make sure you also get a helmet, lock, and lights. Helmets are not mandatory in Denmark but are recommended for your safety.

Rules of the road: Before renting a bike, familiarize yourself with the rules of the road. Biking is a popular mode of transportation in the city, and there are many bike lanes and shared bike/pedestrian paths, so it's important to know the local cycling etiquette.

Bike insurance: Some bike rental shops may offer optional bike insurance to cover damage or theft. Consider whether this is necessary for your rental, and make sure you understand the terms and conditions of the insurance.
Overall, renting a bike in Copenhagen is a great way to explore the city, and it's a fun and healthy way to get around. Just follow local rules and safety guidelines, and enjoy your ride!
Bike-Friendly Events in Copenhagen
Biking is an integral part of everyday life in Copenhagen. You'll see bikes everywhere, from commuters to families with children riding on cargo bikes. Bikes are not only used for transportation but also for recreation and fitness.
Copenhagen is known for its bike-friendly culture and hosts several bike events throughout the year. Here are a few of the most popular bike events in Copenhagen:
Copenhagen Bike Festival: The Copenhagen Bike Festival is a three-day event held in August, which celebrates all things bike-related. The festival includes bike tours, races, workshops, and exhibitions. It attracts thousands of bike enthusiasts from around the world.
Copenhagen Cargo Bike Championship: The Copenhagen Cargo Bike Championship is an annual event held in June. This event celebrates the city's cargo bike culture. The event includes a cargo bike race, where participants compete to see who can carry the most cargo on their bike.
Bike to Work Day: Bike to Work Day is a global event that takes place every June. This event encourages people to bike to work instead of driving or taking public transportation. Copenhagen is a bike-friendly city, and many residents take part in the event every year.
Friday Night Skate: Friday Night Skate is a weekly event held throughout the summer months, where skaters and cyclists come together to explore the city at night. The event attracts hundreds of participants and is a fun way to experience Copenhagen's nightlife.
Overall, Copenhagen is a great city for bike events, with many exciting and unique events taking place throughout the year. Whether you're a competitive cyclist or just looking for a fun way to explore the city, there's sure to be a bike event in Copenhagen that suits your interests.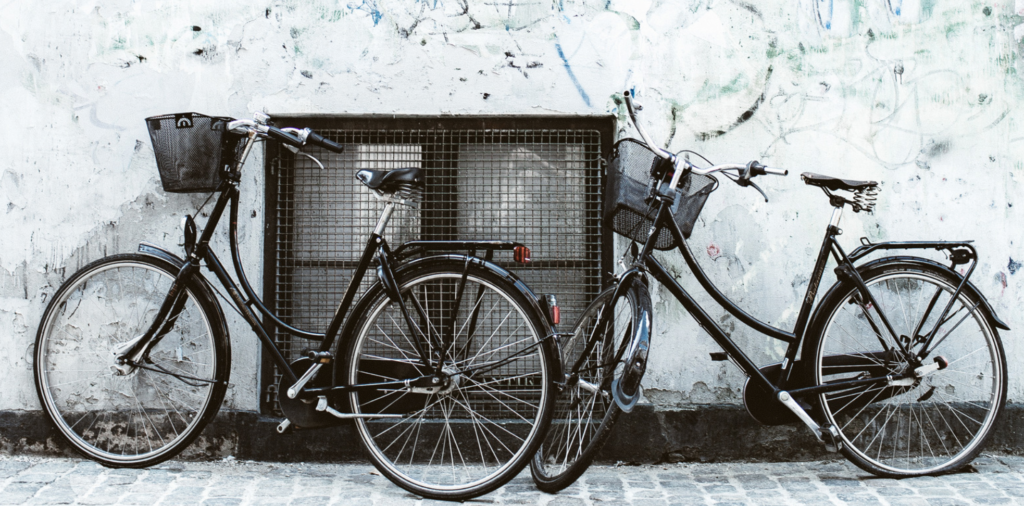 Biking in Denmark
Denmark is known for its bike-friendly culture, with an extensive network of bike paths and lanes throughout the country. Biking in Denmark is not only a means of transportation, but also a way of life. Many people use bikes to commute to work, school, or run errands. Here are some things to know about biking in Denmark:
Bike infrastructure: Denmark has a well-developed network of bike lanes and paths, making it easy and safe to bike around. 

Bikes for rent: If you don't have a bike, you can rent one from various bike rental companies in Denmark. There are also public bike-sharing schemes available in many cities.

Cycling culture: Biking is a popular activity in Denmark, and you'll find people of all ages and backgrounds cycling around. Many Danes also participate in group cycling events, such as the annual Danish Bike to Work Day.

Rules and regulations: Like any other mode of transportation, some rules and regulations apply to cycling in Denmark. Cyclists must follow traffic laws, including signaling when turning and stopping at red lights.

Safety: While biking is generally safe in Denmark, it's still important to take precautions. Wear a helmet, use lights when cycling in the dark, and be aware of your surroundings.
Overall, biking in Denmark is an enjoyable and convenient way to get around. With its well-developed bike infrastructure and cycling culture, Denmark is a great destination for anyone who loves biking.
Just want to let you know; some of my posts might contain affiliate links. If you buy something through those links, it will not cost you a penny more, but I might earn a commission. That will allow for this site to keep going. Thanks!