I asked my Scandinavian blogger friend Susanna, to share some information about her home region Wild Taiga in Finland. Thank you for sharing information about places to visit and things to do. Wild Taiga is now on my bucket list!
What do you imagine when you hear the words Wild Taiga, Finland? Do you see a pine forest with animals? Marshland with cloudberry bushes? Or perhaps endless lakes with people fishing and cute cottages around the shores? I see all of this and more when I hear the words Wild Taiga. 
Wild Taiga is a region in Finland called Kainuu. It is the area that I am most familiar with since I grew up there. This area is in the northern part of Finland, bordering Russia on the east and Oulu Lake on the west. Northern part borders Lapland, and the southern borders the Savo region. To take you on a journey in Wild Taiga, I would start in my hometown, Kajaani.
Places to Visit in Wild Taiga
Kajaani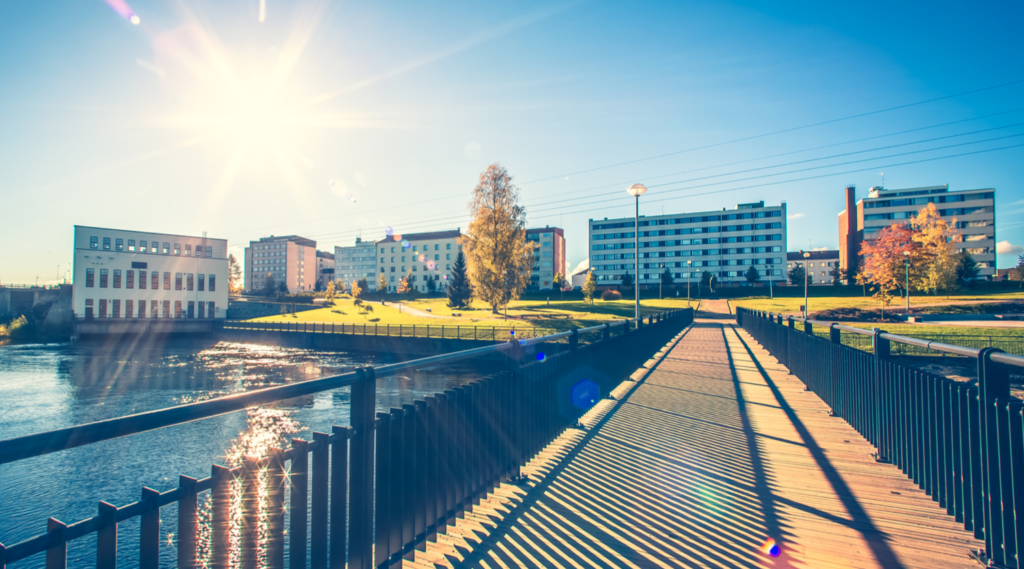 Kajaani has a population of 40.000 people and is the regional center of Kainuu, at Wild Taiga. It has the Oulu River passing through and the remains of an old castle near the city center, sitting on an island in the river. 
Kajaani was an old fort back in the day, and the Swedes built the castle to guard against Russian invasion during the 1600s. Nowadays, it is a busy center with markets, festivals, and shopping, a great place to stay while exploring the surrounding areas.
Kuhmo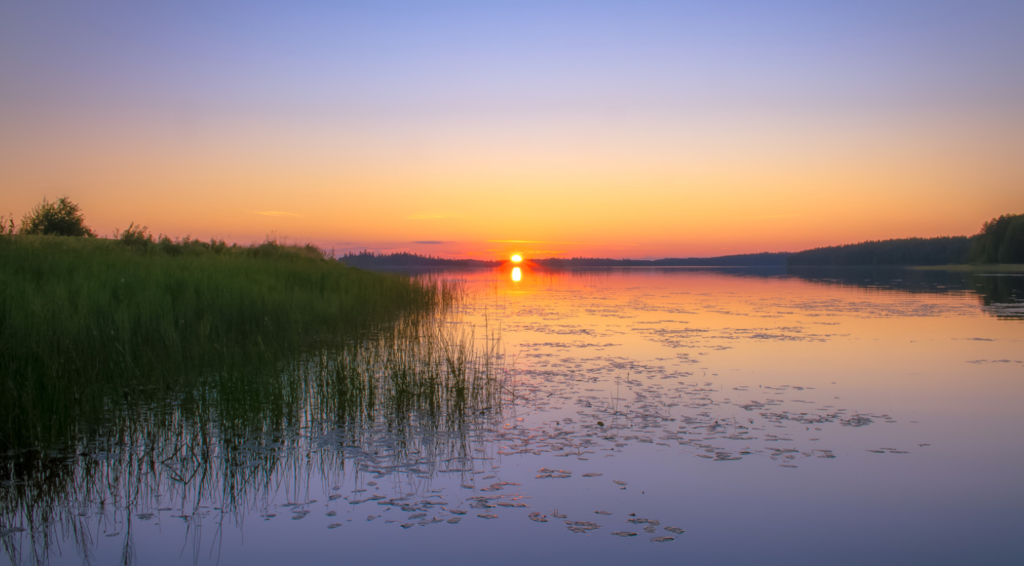 Kuhmo is two hours east of Kajaani and a vibrant border town in the Wild Taiga region. It is the home of the Kuhmo Chamber Festival in July that attracts thousands of guests each year. Kuhmo also has a Winter War Museum that displays life-like replicas of Finnish and Soviet soldiers and how they lived and fought during the Second World War.
The other museum in Kuhmo is Tuupala Museum. You'll find old rustic houses and cottages showing how people lived in the region at the turn of the 20th Century.  
From Kuhmo, I would head north of Kajaani to the picturesque Puolanka. 
Puolanka
This small border town is known for its pessimism that even the BBC noted. But I know Puolanka as the home of Hepoköngäs, the tallest waterfall in Finland. Hepoköngäs is easily accessible, and you can freely roam around the waterfall and the lake. 
Many travelers come here to hike over the summer and explore the lakes around Puolanka, where you can find locals fishing. 
Once at Puolanka, the journey would take you to the next destination, Suomussalmi.
Suomussalmi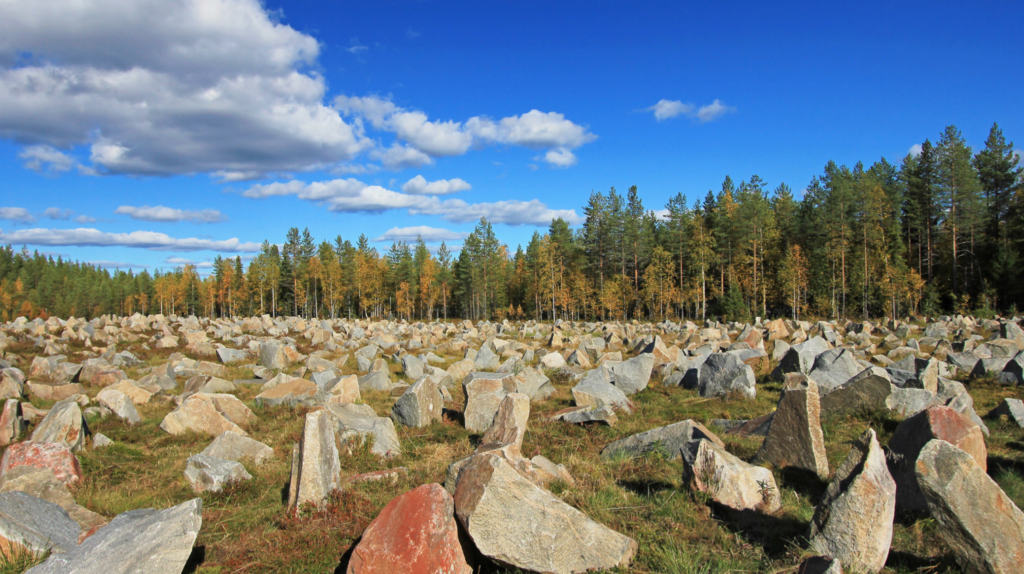 Suomussalmi in Wild Taiga is known as a fierce battleground during the Second World War. The scars are still clear on the ground, and the Raate road museum tells the stories of the Soviet and Finnish troops, attracting many visitors in both summer and winter. 
One of the biggest national parks in Finland, Hossa, is part of Wild Taiga and popular for kayaking, fishing, and swimming. There are prehistoric red rock paintings that you can only reach by water. 
You are allowed to camp at the national park in designed areas. There are marked trails, campfire sites, and cooking shelters that are free to use in Hossa. From Hossa, I would continue my journey to Sotkamo, a 30-minute drive east of Kajaani.
Sotkamo
In Wild Taiga, there is no other place that is as well known as Sotkamo by the Finns. It is known for its pristine clear waters, sandy beaches, and sports facilities. Sotkamo is the home of the baseball team Sotkamon Jymy, a team that is loved by the locals. You can try cross-country skiing all year round in a ski tube that is underground, or you can head to the slopes for some skiing during winter.
There is a golf course and a spa to entertain the kids and adults alike. If you stay in Katinkulta you get access to all these facilities, and the ski slopes of Vuokatti are only minutes away. The whole family can be entertained, at an amusement park nearby.
Things to Do in Wild Taiga
Nature and Wildlife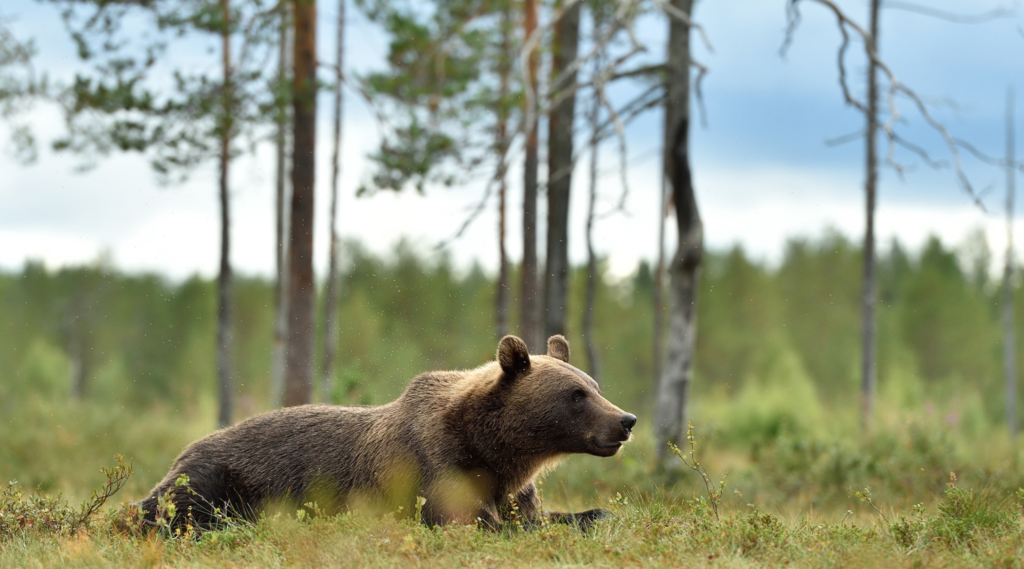 The Wild Taiga region is home to the brown bear, lynx, wolverine, wolf, and lots of native birds. There are bear and wolf sightings regularly by the locals. You can have a tour in close proximity to a feeding place of these beasts, and if you are lucky, you will be able to see them in their natural habitat. 
Summer Activities in Wild Taiga
There are canoeing, fly-fishing, horse riding, and hiking options during the summer months throughout the region. There are also options for hunting elk or small game, which is traditional for the locals. 
Foraging in the autumn forest picking bilberries, mushrooms, and lingonberries are favorite pastimes for the locals. These sell at the markets, and you can enjoy them all year as they are preserved for winter.
Food
If I would have to mention one thing that reminds me of Wild Taiga, it is the food. It is different from the rest of Finland due to the influence of east Russia.
Anyone who has ever visited can pledge for the weird food, including things like Rönttönen that look like a berry quiche, but it is sweet and sour in taste. The Kainuulainen juustoleipä (cheese bread) is squeaky cheese that you can enjoy as dessert or with some lingonberry jam. It is a traditional cheese that you can find at the shops in Finland, but it will probably surprise you with its stringy, soft texture.
When traveling in Wild Taiga, I recommend trying the local foods. They are made from fresh products that are locally made and sourced. 
Winter Activities in Wild Taiga
During winter, the Wild Taiga Region is heaven for all sorts of activities. People come to ice fish, snowshoeing, and cross-country skiing.  Also, the council ski tracks are maintained during the ski season. You can take ski lessons, explore the Russian border wildlife on skis or take an excursion to a reindeer farm.
The many seasons and options to explore the Wild Taiga region have made it popular with families and people looking for untouched nature. It is a place to wind down and reflect while being one with nature. Explore and enjoy the scenery and the slow tick of time. 
There are many areas of Finland that you can explore by car, but in Wild Taiga, you are better off exploring by skis or hiking to get the most out of your time in this still quiet and less habited region of the Nordics.
Thank you Susanna! Want more? Susanna is a Scandinavian lifestyle blogger at TheNordicMum.com
Just want to let you know; some of my posts might contain affiliate links. If you buy something through those links, it will not cost you a penny more, but I might earn a commission. That will allow for this site to keep going. Thanks!