Oslo, capital of Norway, a modern city that's easy to get around, filled with indoor and outdoor activities you can enjoy all year long. Oslo, a great place to combine city fun with nature adventures around the corner. Sculptures, museums, Viking history, Nordic cuisine, nature adventures, and shops at its finest. Let's take a closer look at the many things to do in Oslo, Norway.
Top 10 Things to Do In Oslo Norway
1. Visit The New Munch Museum – Opens in Spring 2021
Norwegian artist Edvard Munch, probably most famous for his painting "the scream", has gotten a museum dedicated to mostly his art. A museum, providing modern art and engaging experiences, where Munch takes up a lot of the wall space. You will also experience temporary exhibits with other Norwegian and international artists. There will be a total of 11 exhibition halls to enjoy, along with cultural experiences, concerts, and readings.
If you like cheesecake, make sure to try the scream cake at the cafe.
2. Climb the Roof of The Oslo Opera House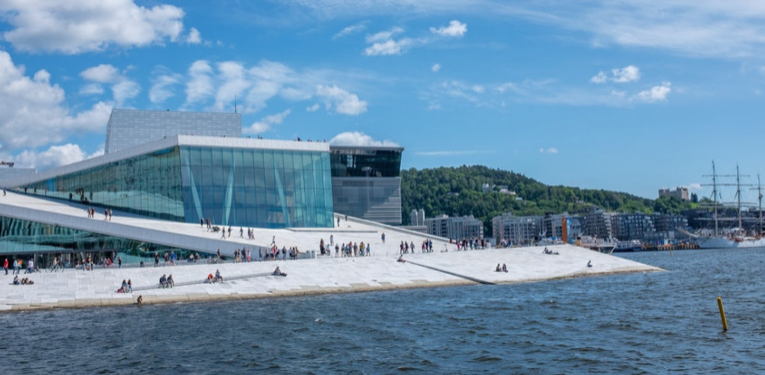 Beautifully located at the harbor, the grounds around the Opera House is a great hangout place for sunny days. Climb the roof, and enjoy the fjord view. The famous building is designed by the Norwegian architecture firm Snohetta, shaping the main hall as a horseshoe.
The Opera House offers three stages, the main stage, the second house, and the studio. Here you can enjoy one of the concerts, ballets, opera or other programs that are available during your visit.
Guided tours of the Oslo Opera House are available but need to be pre-booked.
3. Tour the City by Foot, Bike or E-Scooter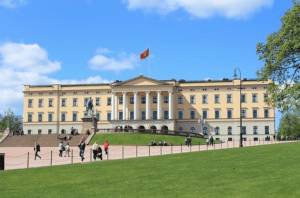 There are many guided tours to enjoy in Oslo. From private tours to group tours, you decide the size of your tour group. If you tour with a group, I suggest that you stay with a small group of maximum 8 – 12 people. That way, you will get the chance to ask questions, and the tour becomes more personalized.
You can get around by foot, bike, bus, or even e-scooter to see the many highlights of the city.
Depending on the tour you take, many of the Oslo highlights will be included. Make sure to see The Oslo Opera House, Bjørvika district, Akershus Fortress, the fjord area, the Royal Palace, the Parliament building, Karl Johans street, and the Vigeland Park.
Here are a few tours available in Oslo:
4. Enjoy a Sightseeing Cruise on the Oslo Fjord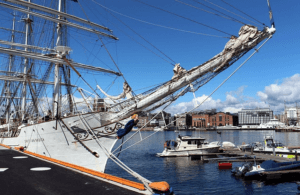 Seeing Oslo from the fjord is a beautiful view. Colorful houses, unique islands, city views, and charming landscapes make for a memorable tour.
Different boat cruises are available, cruises with or without meals, for example. You can also join a boat cruise that entertains, how about a jazz cruise?
Choose between old and beautiful sailboats or modern hybrid boats, to take in the beauty surrounding you.
Here are a few suggested fjord cruises:
5. Frogner Park with Vigeland Sculptures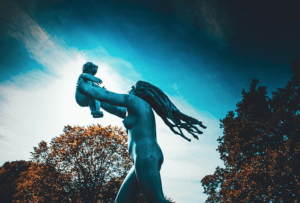 Fun, provocative, honest, and naked, there are many opinions about the sculptures in Frogner Park, most visitors, if you look at reviews, seem to love the park.
Gustav Vigeland, a Norwegian sculpture artist, created over 200 sculptures that you can view in the park. Human sculptures made out of bronze, cast iron, and granite. Two of the more famous ones are "the Angry boy" and "the wheel of life".
To visit the park is free and it's open all year.
6. Explore Museums at Bygdoy
Bygdoy is a beautiful place to explore all year around. In the summer, take the boat from Aker Brygge, or the bus over to the Bygdoy peninsula. Here you can enjoy a few of the many museums, the beach at Huk, restaurants, and cafes.
Here are some of the things that you can explore;
See a stave church at the Norsk Folk museum
Viking Ship museum
The Kon-Tiki Museum
Holocaust center
Bygdoy Royal Manor
Good to know: Some of the museums are closed on Mondays.
Bygdo makes for a great day trip, and if you have the Oslo Pass, many of the museums are free. More on the Oslo pass later in this article.
7. Enjoy a Meal at Aker Brygge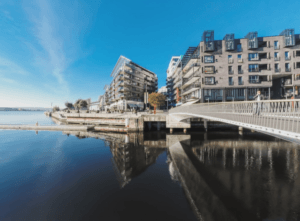 The strip of restaurants along the boardwalk, offers many options for a great dinner. Take in the view of people walking by, boats coming and going, while sipping on a glass of wine.
Aker Brygge, is also an area that offers shopping, museums, and cafes with Norwegian delicatessen.
8. Holmenkollen View, Maybe The Best in Oslo?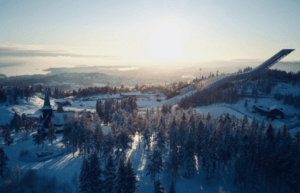 About a 20 – 30-minute ride from the city, you can enjoy spectacular views from Holmenkollen, on the northwest side of Oslo. This area does not only offer great views but great hiking trails as well.
Don't miss one of Oslo's highlights located here, Holmenkollen Ski Jump and Ski Museum. The ski museum is located underneath the ski jump and presents thousands of years of skiing history, modern skiing and snowboarding, along with Norwegian polar exploration. The ski jump has an observation deck with fabulous views. Some say it's the best view of the city.
9. Nobel Peace Center
Visit the Nobel Peace Center and learn more about Alfred Nobel and the winners of the honorable peace prize. They offer permanent exhibits along with temporary ones. A guided tour is included in your ticket. Nobel Peace Center is a fun place to learn for all ages.
10. Ski SNO in the Summer
20-minutes from the city center, you can, no matter the time of the year, enjoy some indoor skiing. Want to ski in the summer? No problem, SNO offers 500 meters of alpine skiing, and 1,5 km of cross country skiing. They even have a snowboard park and beginners area. So no matter your skill level, they have something for everyone. The perfect place to enjoy some winter fun in the summer!
Oslo Pass – Is It Worth Getting It?
If you enjoy going to museums and you plan to visit a few of them, you should look into getting the Oslo Pass. It might be able to save you some money. First, let's look at what they include in the Oslo pass:
Free Entrance to Museums – here are a few of them;

 Akershus Castle
Fram Museum
Holmenkollen Ski Museum and Jump Tower
Holocaust Center
Munch Museum
Nobel Peace Center
Norsk Folkemuseum
Oslo city hall
The Kon-Tiki Museum
These and many more

Free Public Transportation – unlimited travel on public transportation in zone 1 and 2 with the local train, boats, tram, busses, and metro.
Discounts to restaurants and other services – discounts at restaurants like the Salmon, mamma Pizza, Rorbua, Kaffistova, and other places.
Each museum that you visit usually charge between 120 NOK to 150 NOK for an adult.
The Oslo Pass cost 445 NOK for 24 hours for one adult. They also have the option of a 48-hour pass for 655 NOK or 72-hour pass for 820 NOK.
So, if you want to visit a few of the museums and use public transportation, get the Oslo pass and save money. A pass also make your visit convenient.
Culture, art, modern with a rich history, in combination with natural beauty, makes Oslo a great destination. If you are planning on going to Norway in the winter, check out these fun winter activities.
Going to Norway you have to travel beyond Oslo, and explore the beautiful fjords. Traveling between Oslo and Bergen you can experience the Sognefjord area, read more about that here.
These are my Top 10 Things to Do In Oslo Norway. Now it's your turn. If you have been to Oslo, please feel free to add your must-do things in Oslo. If you have any questions feel free to leave them in the comment section below,
Relevant Articles to Top Things to Do in Oslo:
Just want to let you know; some of my posts might contain affiliate links. If you buy something through those links, it will not cost you a penny more, but I might earn a commission. That will allow for this site to keep going. Thanks!