The Swedish capital Stockholm is a vibrant city surrounded by water. The largest city in Scandinavia has a lot to offer all ages. Cobblestone streets and colorful houses in the old town, to music with the dancing kings and queens at the ABBA museum. Soak in the surroundings with the breeze in your hair by enjoying boating in the archipelago. A great way to get to know the city is by doing some tours in Stockholm Sweden. We'll talk more about that.
Taking the ferry, enjoying the islands, and just strolling around the old town and the water shores are my favorite things to do when in Stockholm. Taking a few minutes by the water to breathe, and maybe even have a fika, between the fun activities will balance out days of touring and exploring.
Stockholm is a modern city with the latest technologies and designs mixed with a rich history that still runs through the streets. So much to see, do, and experience and the best way to get tips and ideas beyond the guide books is to join one of the local guides.
Stockholm Neighborhoods to Explore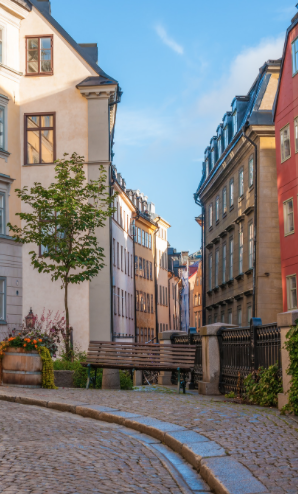 Old Town – There are many different neighborhoods to visit in Stockholm, the most famous one, and a must-see area is the Gamla Stan, the Old Town of Stockholm. With colorful houses, narrow alleys, and cobblestone streets, you'll learn more about the history of the town. In this area, you will also find the Royal Palace, the Nobel Museum (where you can learn more about the Nobel Prize and its winners), and Storkyrkan Cathedral.
Djurgården – Another area of Stockholm to explore is Djurgården. Home of open-air museum Skansen, the VASA ship museum, the amusement park Gröna Lund, and the ABBA museum. Take the ferry, tram, or bus to the island to enjoy the parks, nature, and many museums. My favorite way to get to Djurgården is to walk along Strandvägen, passing the Royal Dramatic Theater and crossing the Djurgårdsbron.
Best Tours in Stockholm Sweden
There are many ways to explore Stockholm and its surroundings. Walking, biking, boating, kayaking, Segway – the options are many. Everything from private one-on-one guided tours to larger groups is available in the Swedish capital. The length of the tour varies from a couple of hours to full-day adventures. When researching your options, think of the following;
Interest – do you want a general tour of Stockholm, or do you want one that is interest focused?
Group size – Are you looking for a private, small-group, or large-group excursion?
Duration – How long do you want the tour to be?
Walking Tours in Stockholm
If you join a 3-hour highlights tour of Stockholm, you can expect to see some of the beautiful waterfront, old town, and the major attractions like the Concert Hall and the Royal Castle.
Walking around the city, listening to your guide sharing stories from the past and today will enrich your visit. A private guide or small group will allow you to ask questions, not only about the tour but in general about Stockholm and Sweden. They happily share their favorite places to hang out, restaurants to eat, and ongoing events while you are there.
Stockholm Walking Tours:
Biking Tours in Stockholm
To cover larger areas of Stockholm biking is a great way to do that. A bike-friendly city with specific bike lanes makes it easy to get around and see the highlights of Stockholm. Cross many of the bridges when biking from island to island. Listening to your guide that shares stories of the town. On most bike tours, you will see the Parliament building, the old town, the Royal Castle, Strandgatan with the Royal Dramatic Theater, and Djurgården.
Stockholm Biking Tours:
Boating Tours in Stockholm
The city encompasses 14 islands and an extensive archipelago. With 57 bridges, there are plenty of harbors, shores, and water areas to explore. Beautiful islands that you can reach by ferry or tour boats. There are many options when it comes to exploring the Stockholm waters. Here are a few to consider.
Stockholm Boating Tours:
Kayak Tours in Stockholm Waters
Another alternative to viewing Stockholm from the water is to do a kayak tour. Leisurely, paddling around the islands while enjoying the view of Stockholm shores, buildings, and sites. Your guide will point out the highlights, share stories, and assist with everything regarding the kayaks. Kayaking is a fun and adventurous way to explore the nature of Stockholm.
Stockholm Kayak Tours:
Viking Tours in Stockholm and Surroundings
To get the best Viking related experiences, going on a tour that takes you outside the city into the countryside, exposing you to real Viking culture, is your best bet. The historic town of Sigtuna, built during the Viking Age, with runic stones, an old main street, and church ruins, is well worth a visit if you enjoy history. You not only get the Viking experience but also get to enjoy some of the Swedish countryside.
Stockholm Viking Tours:
Food Tours in Stockholm
Swedish meatballs might be your favorite, but these food tours go well beyond "just" meatballs. Enjoy food samples from traditional Swedish dishes, visit different restaurants, food markets, and eateries depending on the excursion. If you are lucky, they might even make a stop at a "sweet" spot for some fika.
Stockholm Food Tours:
Away from the City to Enjoy Nature
The city is beautiful, but there is something to be said about Swedish nature. With the right to roam, you have endless opportunities to explore nature and what it has to offer. Getaway for the day hiking, skating, show shoeing, skiing depending on your interest and season. Here are a few of our suggestions to enjoy Swedish nature:
Tours are fun and educational, and I hope that you find the perfect excursion for you and your travel party for your next Stockholm visit. I think these are some of the best walking, biking, and boat Tours in Stockholm, Sweden. What kind of tours do you prefer when you travel? What's a must-see for you in Stockholm? Feel free to share your thoughts in the comment section below.
Just want to let you know; some of my posts might contain affiliate links. If you buy something through those links, it will not cost you a penny more, but I might earn a commission. That will allow for this site to keep going. Thanks!