There are a few different ways to travel between the Danish capital Copenhagen and the Norwegian capital Oslo, some faster than others and some more scenic. Your choice will come down to the time you have to spend and what you would like to see on the way. Let's look at your different options on how to travel from Copenhagen to Oslo.
4 Ways to Travel Copenhagen to Oslo
Fly – The Fastest Way to Travel


Your fastest way to travel between the cities will be to fly from Copenhagen Kastrup Airport to Oslo Gardermoen Airport. A direct flight will take you about 1 hour and 10 minutes. Airlines like SAS, Norwegian, and Wideroe offers direct flights.
SAS is part of Star Alliance and offers most departures. Norwegian, depending on the day, will most likely have the best price.
Although you will not get to see too much on the way, this is the fastest way to travel between Copenhagen and Oslo.
Overnight Ferry – The Most Scenic Way
An affordable, fun way to travel between the capitals, is by taking the ferry. With daily departures, the cruise departs Copenhagen in the afternoon and arrives the following morning in Oslo.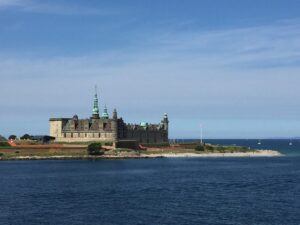 Departing Denmark in the afternoon, you will enjoy beautiful scenery on both the Danish and Swedish side. Keep an eye out for Kronborg "the Hamlet Castle" when passing Helsingor Denmark. During the evening enjoy a good meal, a dip in a jacuzzi, and some entertainment. Spend the night in one of the comfortable cabins, accommodating 1 – 5 people depending on the size of your travel party. Make sure to get up early to enjoy the Oslo fjord and the scenery arriving Oslo around 9.00 am.
The car and passenger ferry, offers many amenities and cabin choices. Standard cabins are the most simple ones and come with either lower beds or bunk beds. These are their most affordable cabins, but be aware that they don't have any windows.
If you are willing to spend a little bit more on your overnight accommodation, there are commodore deluxe or owner's suite cabins. Some of them come with a private balcony. Breakfast is included with all of them. With these cabins, you also have lounge access.
Book your meals when you book your cabin, this is recommended if you want to eat at a specific restaurant onboard.
Read more about the Copenhagen – Oslo ferry here (coming soon).
Train – Comfortable Travel Along Sweden's West Coast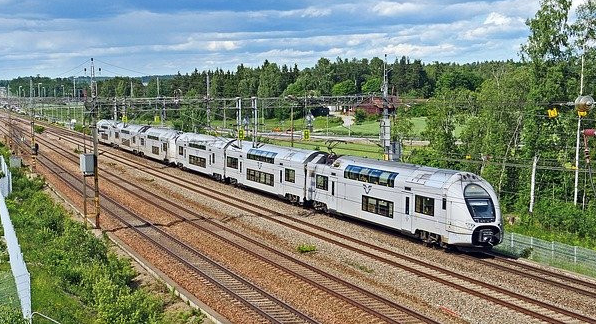 To travel from Copenhagen to Oslo via train, you will have to go through the west coast of Sweden. From Copenhagen, you will travel over the Oresund bridge to Malmo and from there north to Gothenburg. In Gothenburg, you will have to change the train and continue to Oslo. When I write this, they are doing construction on the rails between Gothenburg and Oslo, so you will have to take a bus that last part. The total trip is around seven and a half to eight hours.
If you have the time, spend a couple of days in Gothenburg, Sweden's second-largest city, before continuing your journey to Oslo.
For your train ride, you can book first and second class tickets. You can also choose to get train-tickets that are refundable or nonrefundable. Some you can change the dates but not get a refund. The difference from the lowest second class ticket, to refundable first-class tickets, is only about $30. I would spend that to get the upgraded version. You can also reserve your seat, which is always a good thing to do.
Self-Drive – Explore on the Way
If you would like to stop at multiple places along the way, I suggest that you drive yourself. Driving from Copenhagen to Oslo will allow you to take your time and explore on your own. Start in Copenhagen and drive north up to Helsingor. From here, you can take the car ferry over to Helsingborg.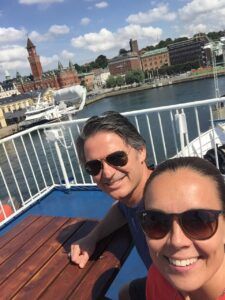 Helsingborg, my former hometown, is one of my favorite places in Sweden. Spend the night and discover this wonderful town and surroundings. Walk up to Karnan for an amazing view of the city and the Danish side. Walk over to the Maria church, enjoy a meal at one of the restaurants in that area.
Continue your drive north to Gothenburg. Spend a couple of nights here and explore some of the many islands, Bjorko or Marstrand, for example. The coast is beautiful in the summer, and you can make multiple stops along the way.
Continue, road E6, north, and cross over to Norway. If you want to make a stop along the Oslo fjord, Moss is a great place to visit.
If you were to drive from Copenhagen to Oslo without stops, it would take you about 6 hours and 40 minutes. It's about 600 kilometers.
Copenhagen – Oslo
How to travel from Copenhagen to Oslo will, of course, be up to you. Which way sounds more appealing to you? Will you fly, take the overnight ferry, take the train or drive yourself? Please share your thoughts in the comment section below,
Things to See and Do in Copenhagen and Oslo
Just want to let you know; some of my posts might contain affiliate links. If you buy something through those links, it will not cost you a penny more, but I might earn a commission. That will allow for this site to keep going. Thanks!