Beautiful Oslo with Akers Brygge, the Opera House, and the Oslo fjord has so much to offer. Joining one of the many sightseeing tours in Oslo will give you a great introduction to the city. With this article, we will guide you through the jungle of excursions offered in the Norwegian capital. 
The Viking history runs deep in the city. Other things to explore are art at the Munch museum, sculptures at the Vigeland park, and modern culture and design at the Oslo Opera House. These are just a few of the must-see things on your next Oslo visit.
Sightseeing Tours in Oslo Norway
Oslo, and its surroundings, can be explored in many different ways. Maybe you want to kayak the Oslo fjord, take a lunch cruise on a sailing boat or enjoy landmarks on a walking tour. Join a group or do a one-on-one private tour. If you decide to join a group tour, the number of people varies. To get as much as possible out of your excursion, join one that offers smaller groups, a maximum of 12 people, for the best experience. Guided Oslo tours usually last from a couple of hours to full-day outings. Things to consider before booking your tour;
Type and interest – if you prefer a walking tour, for example, you will have plenty of options. Food tours, highlight tours, neighborhood tours, and other interest tours are available strolling around Oslo.

Group size – do you prefer a private tour, or do you enjoy meeting other travelers when exploring? If you want a customized excursion for you and your party, go on a private tour. Getting that one-on-one attention can allow you to ask questions and take things at your paste. If you enjoy the company of other travelers, join one of the groups. This is also the more cost-effective way to see a city.

Duration – the duration of the Oslo tours varies from a couple of hours to full-day adventures.
Walking Tours in Oslo Norway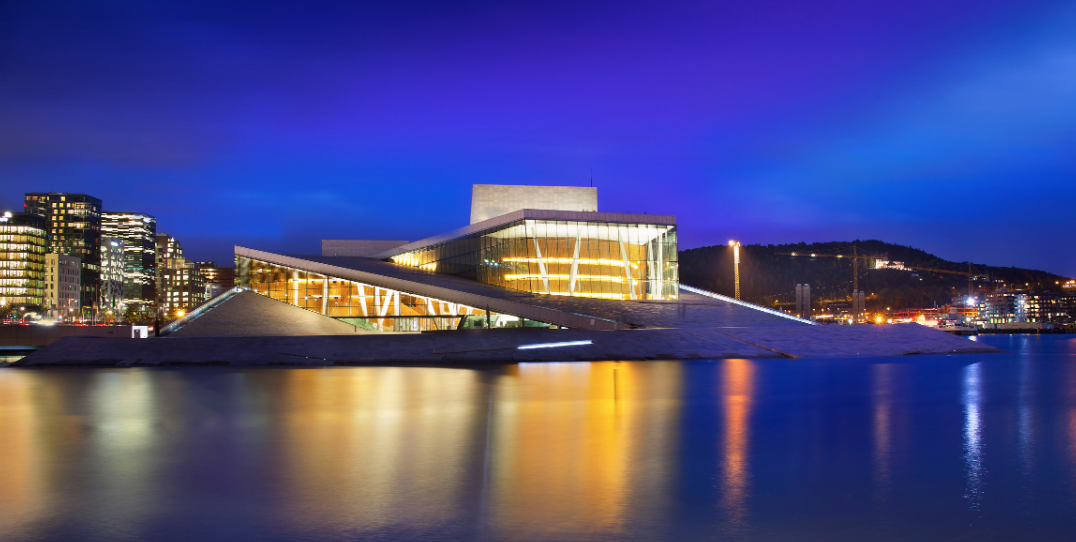 Walking around Oslo is a great way to discover the city. Even better is having a specialist, a tour guide, by your side. With a 2 – 3 hour tour of the city, you will get the opportunity to see many of the highlights. Places like the Oslo Opera House, Akers Hus fortress, City Hall, Royal Palace, the Parliament building, and Karl Johan, the main shopping street, are included on many of the Oslo city tours. If you want to add the Vigeland park and Viking ship museum, extend your tour, and join one of the 5-hour ones available.
It is just not the main city center of Oslo that's worth a visit. You'll find many quaint neighborhoods around town. Visiting these neighborhoods will allow you to get more of the Norwegian feel. Grünerløkka, a hipster and bohemian area with street art and parkland, will show you a different side of Oslo. 
Walking Sightseeing Tours in Oslo, Norway:
Bike Tours in Oslo Norway
If you want to cover more ground within a short period of time, joining a bike tour is the way to go. In small groups, you'll take in the beauty of Oslo from your bike, with stops at the major highlights along the way. On a 3-hour tour, you can expect to see the old town, popular Vigeland sculpture park, Oslo Opera House, Akers Brygge, City Hall, and of course the Royal Palace. Some tours also include popular and hip Grüneløkka. Ride along the water and take in the natural beauty mixed with the city atmosphere, a great experience.
Bike Tours in Oslo, Norway:
Kayak Tours in Oslo Norway
A kayak trip on the Oslo fjord will create memories for a lifetime. Seeing Oslo from the water will give a new perspective. Paddle through the marina to the Oslo fjord and enjoy the beautiful nature surrounding you. If you enjoy kayaking and a little bit of adventure, this is a perfect outing.
Some Popular Kayak tours in Oslo:
Sightseeing Cruise from Oslo
If you want to explore Oslo from the water in a more relaxed way, joining one of the many sightseeing cruises is a great option. Take in the beautiful Oslo fjord with or without a meal. Indeed, some of the cruises will offer lunch or dinner sailings. Most of the tours last between 2 and 3 hours, and the type of boat varies. Would you prefer an old fashioned wooden sailboat or maybe a modern hybrid boat to discover the waters around Oslo?
Cruise tours of the Oslo fjord:
Food Tours in Oslo, Norway
Enjoy the Nordic cuisine with a food tour. A food tour is a great way to try a variety of Norwegian, traditional cuisine. Sample Norwegian foods, snacks, and drinks and visit some of the local restaurants. If beer is your thing, doing a beer tour visiting local markets and pubs sampling Norwegian beer and cheese might be an even better option for you. Another alternative is to do a street food tour, enjoying some of the best Norwegian street food. Don't be surprised if a Norwegian hot dog is on the sample list.
Suggested Food Tours in Oslo:
Viking Tours in Oslo
The Viking history runs deep in Norway. Learn more about the local ancestors by joining a Viking-tour or by visiting one of the Viking museums. An interesting and fun way to learn more about the rich Norwegian history.
Viking Tours in Oslo, Norway:
Enjoy Nature Away from the City
Oslo is surrounded by breathtaking nature. Get out of the city for a day to enjoy a hike or nature walk. Discover island hopping with hidden beaches and small villages to forest adventures with waterfalls and lush trees. Allow your guide to getting you out of the city, breathe some fresh air, and show you around. Depending on the tour, stunning viewpoints might be part of your adventure. In other words, easily accessible, Norwegian nature awaits you!
Nature tours away from Oslo:
Full-Day Tours to Enjoy More of Fjord Norway
If you prefer a full day adventure away from Oslo to see more of beautiful Norway, you can do either a private-guided tour or a self-guided tour. Fjord cruises, trains, private transportation, and buses allow you to explore amazing nature in a day. Enjoy waterfalls, tall mountains and deep fjords when you visit places like the Sognefjord, Naeroyfjord, and ride the famous Flam railway.
Full-Day Tours to Enjoy Fjord Norway:
How do you prefer to learn more about Oslo? Next time you go, would you do a guided tour? Joining a guide is not only to find out more about a destination you also get tips and ideas of restaurants and local events going on when you are there. Also, what better way to learn more and to ask questions. Participating in a tour and you can ask all the questions you want.
So, will you join a walking, biking, boating, or kayak tour in Oslo? Or maybe, a food, Viking, or nature tour is more your thing? Either way, I would love to hear from you. Please leave your personal experience in the comment section below. If you have any questions, please leave those as well.
Relevant Oslo Posts:
Just want to let you know; some of my posts might contain affiliate links. If you buy something through those links, it will not cost you a penny more, but I might earn a commission. That will allow for this site to keep going. Thanks!