Are you planning a trip to Scandinavia? Maybe, looking for some more information on navigating the hotel jungle in Stockholm, Oslo, Copenhagen, and beyond? Scandinavian hotels are modern, clean, and staffed with friendly locals. But, if you are used to spacious rooms with two queen-size beds, as we are many times in the US, you want to continue reading.
Everything you need to know about Scandinavian Hotels. Room size, bed options, tipping, popular hotel chains, and boutique-style hotels in Scandinavia join our discussion. 
Be Clear On What You Need
There are a few things to consider before diving into booking accommodation. Not specific to the Nordics, but having a clear picture of what you need will help you narrow down the hotel options. Ask yourself;
Where do you want to stay? Is the location of the hotel important? Do you want to be close to Nyhavn in Copenhagen or Old Town in Stockholm?

What kind of services/amenities do you want? Are there must-haves like parking, a family-friendly hotel, or air-conditioning in your room?

Do you want a certain standard/star-rating on the hotel? 

What's your hotel budget?
Scandinavian Hotels Website vs. Online Booking Service?
If planning a multi-destination trip in Scandinavia, it's important to stay organized. Having all the bookings with one provider can make things easier. Booking.com is a great option for such a booking service. More about that later.
If you book directly with the hotels, stay organized with an excel sheet. It's an easy way to keep track of important information, like booking numbers, addresses, and phone numbers. Here's a sample to help you stay organized when having bookings at different places.

Hotel Prices in Scandinavia
Hotel prices, even at the same hotel, can vary greatly. Depending on the day of the week, season, and events going on. The best budget overview you can get for your trip is to go to booking.com and type in your wanted destination and travel dates to get a good idea of hotel costs.
A tip: Create an account with booking.com and sign-in to get the best prices. Despite being the same website, there can be a price difference in some cases. In the below example, we have the exact same hotel and dates. Yet, logged-in, you will get what they call a "secret deal". In addition, book early with free cancellation as extra security. Happen to find a better deal somewhere else? Booking.com even price match!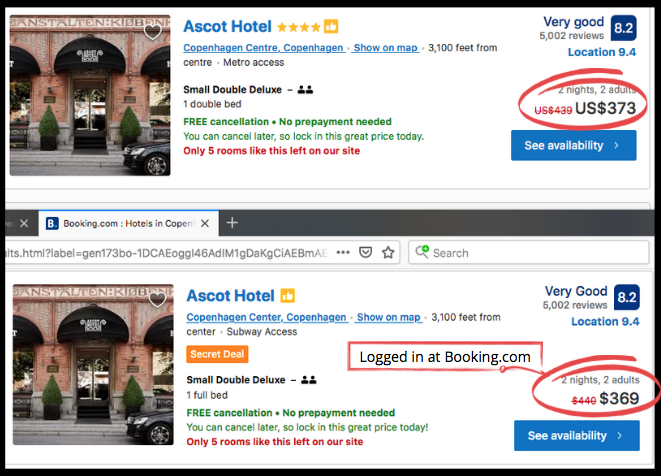 Tipping at Scandinavian Hotels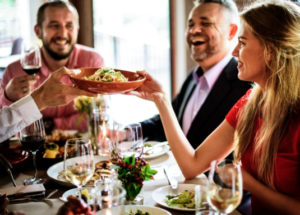 What about tipping at Scandinavian hotels or their restaurants? Tipping in Scandinavia is not expected at hotels. If you feel that you get exceptional service from housekeepers or other staff, then a small tip is appreciated. Then again, it is not expected.
At the hotel restaurant, you do not tip for breakfast. If you have an exceptional dinner with great service, then feel free to round up the amount. For example, if your meal is 470 SEK feel free to round up to 500 SEK. 5 – 10 % tip is plenty. However, it is not expected but appreciated.

The same will apply if you order something from the bar. If a glass of wine is 95 SEK, feel free to leave 100 SEK.

Hotel Availability in Scandinavia
To avoid hotel availability issues, book early. As a tour operator, I booked trips a year, a year and a half out for some travelers. They wanted to have the land arrangements taken care of even though the flight is not available to book until 11 – 12 months before departure. I also had last-minute bookings and everything in between. 
If there are special events or conferences in a city, rooms book up quickly. Booking early, you can pick and choose hotels without problems. 
The summer months June, July, and August are considered high-season in Scandinavia. Up north in Lapland, things get busy during winter, around the Scandinavian holidays, Christmas and Easter.
If you plan to visit smaller popular cities, like Balestrand, Norway, book ahead. Balestrand is a popular stop on the "Norway in a Nutshell" journey between Oslo and Bergen. After all, the Historic Kviknes hotel in Balestrand is an experience in itself. The hotel gets busy during the summer.
Now, if you are booking last minute, don't get discouraged. Check your options on booking.com, but also directly with the hotels. You might get lucky your preferred hotel might get a late cancellation. On the other hand, there are most likely other hotel options.
Room Types and Beds Available at Scandinavian Hotels

Room types vary from hotel to hotel. In general, rooms are a lot smaller in Scandinavia compared to hotel rooms in the US. You might want to consider upgrading a double room to a deluxe or superior room, or even a jr. suite, for extra space and comfort. 
In addition to double rooms, most hotels offer single rooms, triple rooms, and family rooms. 
Booking.com makes checking the room size easy. If they don't display the square feet, consider the room too small to book.
Scandinavian Hotels – Type of Beds
Bed type is another thing to pay attention to in Scandinavia. You have the option of twin, full, queen, and king size bed.
It is not uncommon to push two twin-size beds together to make it a double bed. If bed type is not specified, but you have a preference, request it when booking.
Check-In / Check-Out
When checking-in at a Scandinavian hotel, all staff speak English. Check-in is usually early afternoon, and check out before lunch. To get exact times, contact the hotel. 
Breakfast
Breakfast is a lot of times included in the price or can be added for an additional cost. Scandinavian hotel breakfasts are delicious, offering warm and cold dishes and a good variety of them. Don't be afraid to try the local dishes like herring, salmon, or a toast with different cold cut meats.
Hotel Amenities
Non-Smoking Rooms 

WiFi – most Scandinavian hotels offer free wifi

Bathtub or Shower – this vary

Hairdryer – common in each room

Safe – common in each room

Tea/Coffee Maker/Mini Bar – common in each room
Air-condition – not all Scandinavian hotels offer air conditioning. Some hotels have it in specific room categories. On the image above the hotel does not include air conditioning in a small or standard double room. However, they do include it in the superior double room.
Elevators – most hotels will have elevators if rooms are on different floors, although some elevators can be small, in fact, tiny.
Parking – most hotels offer parking spots. But, parking at some hotels will be an additional fee.
Airport or Cruise transfer – transfer and shuttle services vary between hotels. Some hotels offer it, while some would recommend a cab or public transportation depending on the hotel location.
Fitness Center / Spa / Swimming pool – not every hotel will have a fitness center, spa, or pool. If this is important to you, here are a few hotel options with a swimming pool and fitness center.
Common Scandinavian Hotel Chains
Traveling around the Scandinavian countries, you will notice that certain hotel chains are common. It varies between the countries, but here are some of the more popular ones in Sweden, Denmark, Norway, Finland, and Iceland.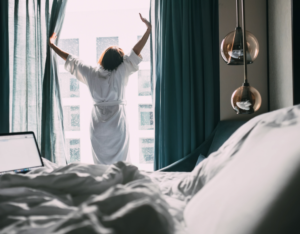 Arp-Hansen Hotel Group Denmark

Thon Hotels Norway

Sokos Hotels Finland

Kämp Collection Hotels Finland

Radisson Blu

Fosshotel Iceland

Keahotels Iceland

Elite Hotels of Sweden
Hotel Chain Overview in the Scandinavia Capitals
Stockholm, Sweden – According to hotelchains.com, there are 125 hotels and 24 hotel chains in Stockholm. Scandic, with its 3796 rooms, is the largest chain. Followed by Nordic Choice hotels with 3618 rooms. 52 hotels are independent.
Copenhagen, Denmark – 93 hotels and 21 hotel chains are available in Copenhagen. Arp-Hansen Hotel Group is the largest chain with 2955 rooms, and Scandic comes in second place with 1545 rooms. Copenhagen has 41 independent hotels.
Oslo, Norway – Oslo has 75 hotels and 13 hotel chains. Thon Hotels is the largest hotel chain with 2783 rooms, and Scandic offers 2630 rooms in the Norwegian capital. 18 hotels are independent.
Helsinki, Finland – 56 hotels and 17 hotel chains are available in Helsinki. With 2310 rooms, Scandic is the largest chain. Sokos Hotels with 1392 rooms comes in second place. Helsinki has 10 independent hotels.
Reykjavik, Iceland – Reykjavik has 57 hotels and 9 hotel chains available. Fosshotel with 1008 is the largest chain, in second place with 492 rooms is Keahotels. 31 of the Reykjavik hotels are independent.
Source: hotelchains.com
Scandinavian Boutique Style Hotels
If you prefer a large hotel with all the amenities or a smaller, more personal, boutique-style hotel with charm, is up to you. We have talked about some of the larger hotel chains. In addition, here are a few smaller, boutique-style hotels in the Scandinavian capitals. 
Copenhagen – Hotel Sanders 54 rooms

Stockholm – Ett Hem 12 rooms (0.9 miles from center)

Helsinki – Hotel Fabian 58 rooms

Oslo – Camillas Hus 7 rooms (0.7 miles from center)

Reykjavik – Sand hotel by Kea 52 rooms that can expand to 67
There are plenty of great hotels in Scandinavia. What's important when you book a hotel room? Room size, bed size, tipping, and  amenities are a few of the things we discussed. If you have any questions or want hotel suggestions on Scandinavian hotels, feel free to leave a comment below, and I will be happy to help. If you want to share your own experience, I would love to hear it!
Related Articles:
Just want to let you know; some of my posts might contain affiliate links. If you buy something through those links, it will not cost you a penny more, but I might earn a commission. That will allow for this site to keep going. Thanks!