Helsingborg, located in Skåne, in southern Sweden, is one of my favorite places. I might be partial since I lived there for a few years, but there is something about this little town that is very inviting. The waterfront, restaurants, and the feel of the town is a mix of modern chic meeting cobblestone and historic buildings. 
Cozy and small enough town to spend a day or two in. Easily accessible, only about one hour and fifteen minutes by train from the Danish capital makes Helsingborg the perfect excursion from Copenhagen.
Helsingborg is vibrant in the summer but a little sleepy in the winter. Friendly locals in a multi-culture environment, from south to north part of town. During summer, the beach is inviting, restaurants and cafes are busy, and the outdoor patios fill up quickly. In the summer, the city comes alive people love being outside, walk the waterfront, dine out, and hang out with family and friends. When I go back to visit my old hometown these are some of the things I enjoy.
Some of My Favorite Things to Do in Helsingborg, Sweden
1. Having Lunch at Olssons Skafferi by the Saint Mary Church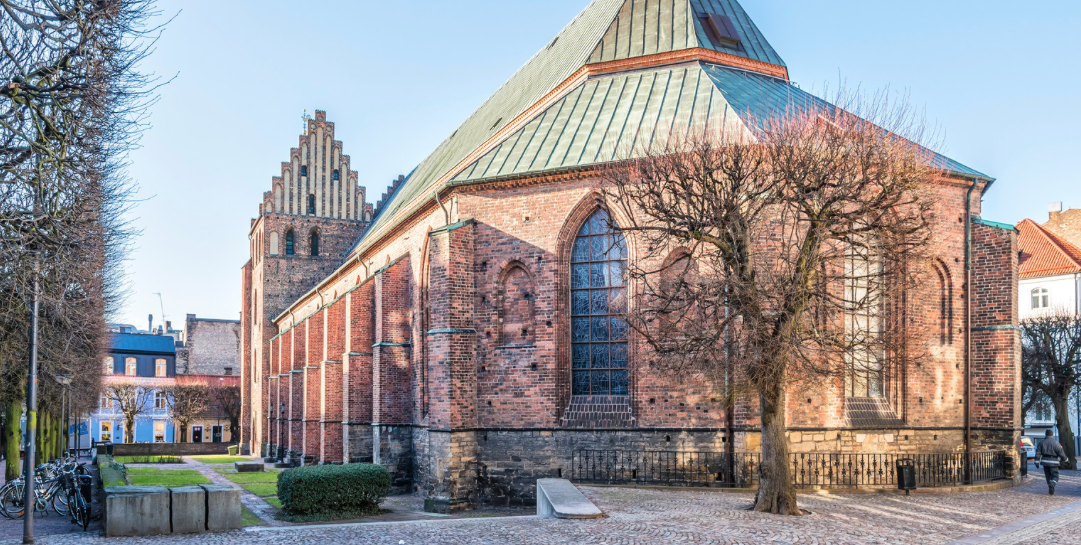 If you arrive in Helsingborg by train, walk towards the cobblestone streets and Kullagatan, away from the water. A few minutes walk you will be at the Saint Mary Church, in this little square area you will find shops and restaurants. Not only is the church beautiful, but this is where you will find one of my favorite Helsingborg restaurants. Olsson's Skafferi, right across from the church entrance, has great food, a cozy atmosphere, and rich history. They have a delicious Italien inspired menu in a beautiful setting. Be sure to make reservations.
2. Walk Up the Stairs to Kärnan for a Beautiful View of Öresund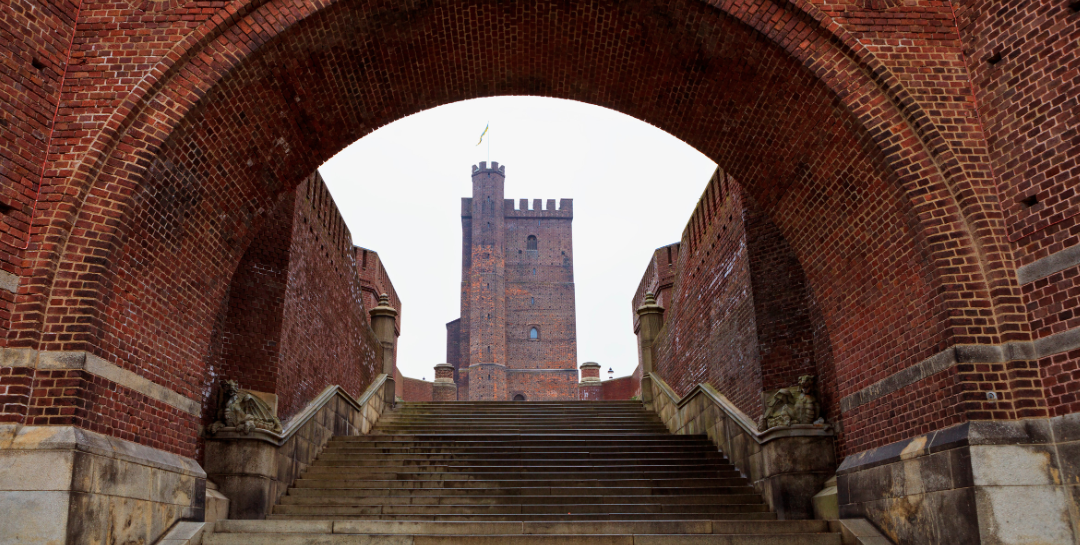 From Saint Mary Church, you are right around the corner from one of the Helsingborg landmarks, Kärnan. Walk up the stairs to this Medieval tower for a magnificent view. From here, you can see the rooftops of Helsingborg, including City Hall. You will see the water between Sweden and Denmark and the Danish shoreline in a distance. On a clear day, you can even spot Copenhagen at a far distance.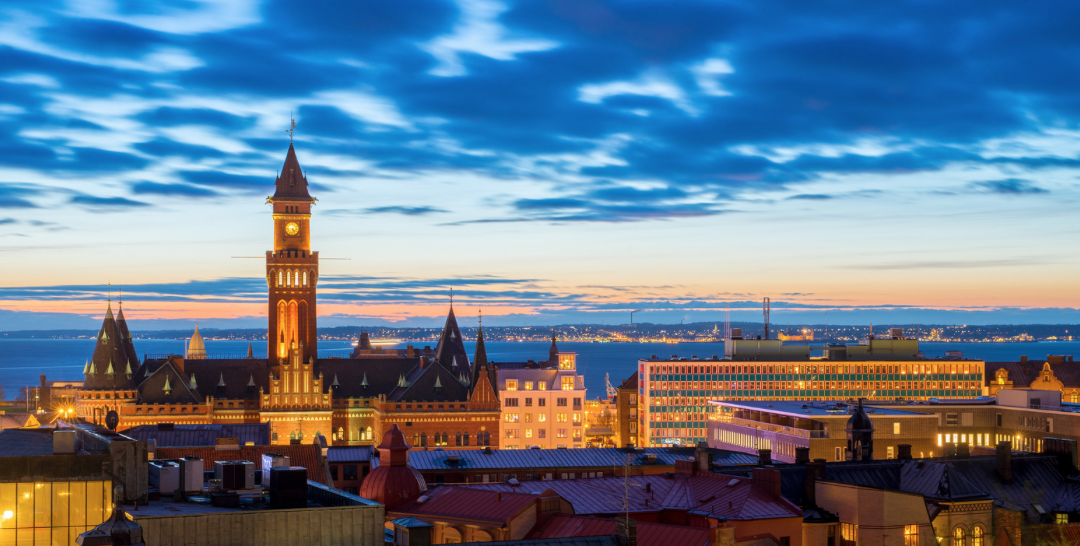 3. Shopping and Fika 
Coming back down from Kärnan, you are almost at Kullagatan, the main shopping street in Helsingborg. If you need refreshment before shopping, depending on the time of the day, maybe a beer, then I can suggest Utposten located right on the corner at the bottom of the Kärnan stairs. If you want a coffee and Swedish fika, continue to Kullagatan and Fahlmans Konditori.
Now, if you want a fika experience from the 50s, Ebbas Fik is the place to go. A few minutes walk, but an authentic 50s inspired fika place, with classic interior and Swedish cookies and cakes that will make you want more. If it's a nice day, check out the outdoor seating in the back. They have a courtyard patio surrounded by greenery and apartment buildings.
4. The Northern Harbor Area with Dunkers Culture House, Bars, and Restaurants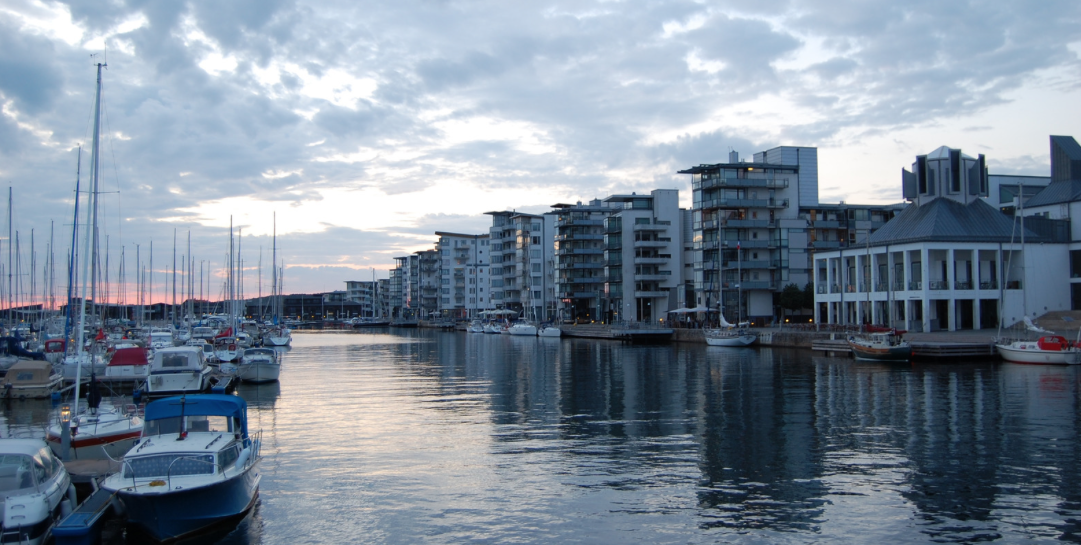 At the Northern Harbor waterfront, you can enjoy the marina, restaurants, and Dunkers Culture house. In the summer, a busy area filled with locals, tourists, and boats. In the mix of all of this, you'll find Dunkers Culture House. A unique building and a center for art and culture. They have a museum, exhibits, events, and a cafe located at ground level.
There are many great restaurants to choose between but the one at the end of the Marina, Pub Ro, serves a delicious fish soup. You can sit on the patio and enjoy the boats and the beautiful surroundings.
5. Take a Walk in the Pålsjö Forest
Walking from downtown Helsingborg up through the Tågaborg neighborhood (this is where I used to live), you will get to Pålsjö forest. A fun walk where you will see a mix of apartment buildings, houses, corner restaurants, and more. Pålsjö forest offers beautiful nature and hiking, right around the corner from town. One area, and well worth a visit in itself, Pålsjö castle, will give you a beautiful view of the water. During your hike, stop at Pålsjöpavillion for some Swedish waffles and coffee. You have to get that Swedish fika time in. 
6. Visit the Sofiero Palace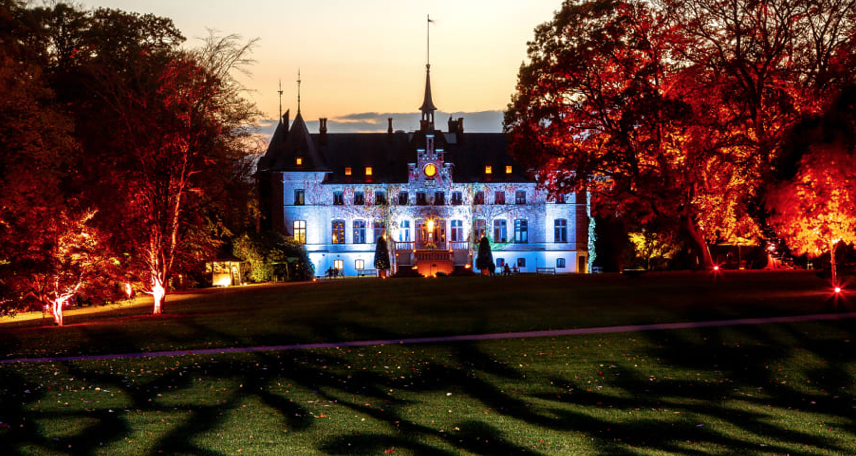 If you enjoy hiking and don't mind a 5 km hike, you can walk north to Sofiero Palace, via Pålsjö forest. If you prefer faster transportation, I suggest you take a cab or the local bus. 
Sofiero is another beautiful area, with an award-winning garden when in season. The Sofiero Palace was once one of the Swedish Royal family's country mansions. Today you can enjoy the surroundings, tour the Palace and enjoy a meal at the restaurant. Sofiero also offers many events and concerts in the summer.
7. Ferry Between Helsinborg and 

Elsinore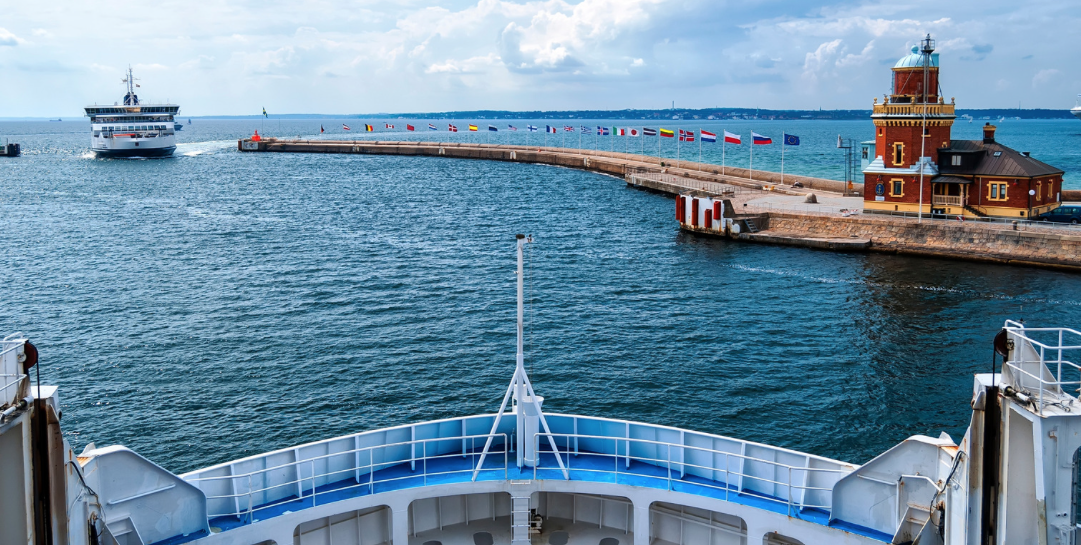 Denmark and Elsinore, or as they say in Denmark Helsingør, is only a 20-minute ferry ride away. Jump on the ferry in Helsingborg, enjoy the ride doing some tax-free shopping, and have either one of the delicious shrimp sandwiches or a red hot dog. The red hot dogs are a Danish thing, but something my teenage son can't get enough of when we are there. Leaving Helsingborg, crossing the Öresund water, take in the city view. Go to the top of the ferry and enjoy outside seating. Arriving in Helsingør you will see the historic Kronborg Castle. The home of Shakespeare's Hamlet and today a UNESCO world heritage site.
What is "Tura"? The meaning of the term Tura is that you don't get off the ferry in Denmark. You stay on the boat and go back and forth between the two cities enjoying a good meal in the restaurant. This might seem strange, but some like the on-water restaurant experience.
Fun Self-Guided Tour
Make Helsingborg in Sweden Part of a Loop Journey from Copenhagen
As I mentioned, Helsingborg is easily accessible from Copenhagen by train. On your train ride from Copenhagen, you will cross the Öresund bridge to get over to Malmö, Sweden. From Malmö, you continue north to Helsingborg by train.
After your stay in Helsingborg, you continue your journey by boat to Elsinore. After your Elsingor stop, you have about an hour by train, south to Copenhagen. A loop-journey by train and boat. A trip that you can do in a day, but I recommend spending the night in Helsingborg. Spending the night will give you more time in Helsingborg and your chosen destinations. It also allows you to travel in a more comfortable paste.
Where to Stay in Helsingborg
Spending the night in Helsingborg, you have some great hotel options.
Staying downtown, it's small enough to walk to the main attractions. Located right by Kärnan, both Hotell Mollbergs and The Vault hotel offer 4-star accommodation, with great customer reviews. I've stayed at Hotell Mollbergs. If that's your choice, make sure to upgrade to one of the larger rooms for the best comfort. 
The Elite Hotel Marina Plaza is another good alternative, located right by the train and ferry terminal by the water. For a less expensive option, Hotel Linnea is a good 3-star hotel. A smaller hotel with a tasty breakfast. 

When you book hotels in Scandinavia, there are a couple of things to consider. The rooms are usually smaller than hotel rooms in the US. Consider upgrading for better comfort. Second, double beds can be everything from twin beds pushed together to a king-size bed, so double-check what's included with your room.
Helsingborg a wonderful, fun summer city with good restaurants, a popular beach, and a vibrant city center. Small town Sweden at its best!
Related Posts:
Just want to let you know; some of my posts might contain affiliate links. If you buy something through those links, it will not cost you a penny more, but I might earn a commission. That will allow for this site to keep going. Thanks!