While doing some research on Copenhagen and their many tours, I kept running into Hey Captain and their boat tours. Offering exciting small group tours around Copenhagen's waters, with raving reviews from happy sailers, I had to learn more about the company and the people behind it. 
Copenhagen, often referred to as the biking capital, is something Casper and the rest of the Hey Captain crew are willing to challenge – Copenhagen is built for sailing. I got the privilege to ask Casper some questions and learn more about Hey Captain and their operation.
Can you please tell us how Hey Captain got started?
Hey Captain, was founded by Joel and me, Casper. The concept came when we were sailing our friends and family around on "Diana", our first boat. The idea came from taking this, "friends on a boat" feel and make it into a business.
Who are the people behind the brand Hey Captain, and what kind of expertise do they bring?
We are old friends from Copenhagen Business School and have both spent considerable time in corporate careers before starting this venture. Joel used to work for BCG, and I worked for a large medical device company.
Since the beginning, Hey Captain has always been anchored around the social and personal aspects. With this focus, the Hey Captain experience is constantly evolving through feedback and ideas that derive from the captains.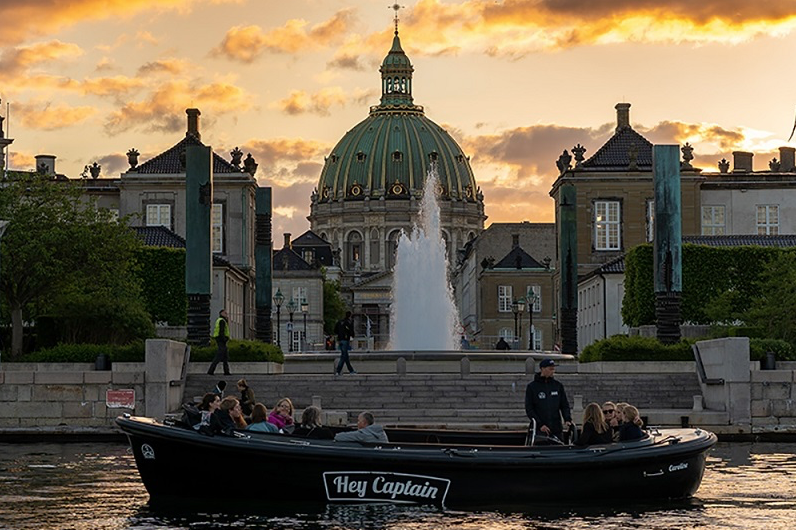 What does the boat Captain bring to your tours? Is the Captain the driver and guide?
The Captain of the boat is the social host. She/he is there to provide an interesting insight into the harbor, but more importantly, to create a social space allowing guests to engage and interact with each other. She/he also sails the boat. ?
What's the one thing that makes Hey Captain Canal tours stand out from the other canal tours in Copenhagen?
After seeing and analyzing thousands of tours, we have found out that what makes the difference is the level of social interaction on our boat tours. If we can succeed in creating an atmosphere where people become "open" and there is a sense of togetherness. We call this social sailing when we succeed and have put all our efforts into making this happen.
We have a scientific approach to this testing hypothesis vs. control scenarios to evaluate which nudges to include as part of the tour. In that sense, you can see us as a social interaction lab, and every day we get better and better.
We also believe that we need more of this to be able to solve many of the world's challenges. Part of allowing this to happen is also that we have smaller boats with a maximum of 12 people and a captain who will open up so it will feel very personal.
If you have a larger travel party, do you have multiple boats?
We have 10 boats all together with a max of 12 guests per boat. We often do multiple boats to accommodate larger groups. It is always nice to sail the armada around the harbor.
Each boat is named, is there a meaning behind the chosen boat names?
Each boat has a female name. The names come from Joel and Casper's friends and family. For example, the first two Hey Captain boats were named 'Fanny' and 'Sanne', after their mothers.
Who are your canal tours for?
Everyone! Our goal is to have as many people to experience Social Sailing as possible. We have a mix of foreign tourists and locals.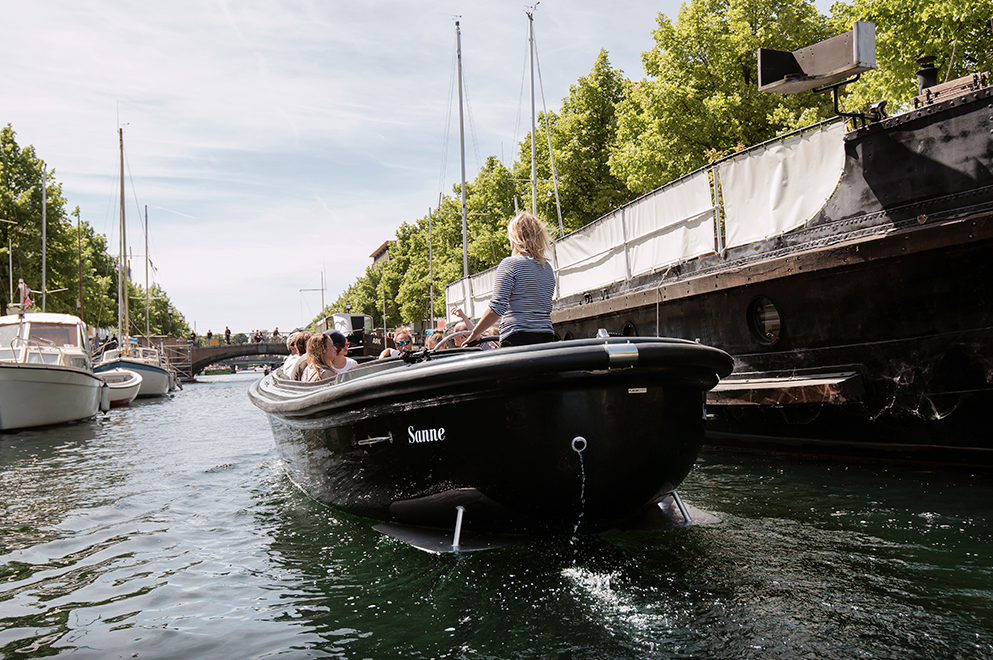 What kind of public canal tours do you offer in Copenhagen?
We offer 3 types of tours:
"the landmarks" 1 hour,
"the hidden gems" 2 hours,
"the Diana" 5 hours.
Our 5-hour tour is the real deal and a tribute to our first boat called "Diana".
What can the traveler expect to see on each of those tours?
On "the landmarks tour", we mainly focus on the inner harbor, where we explore the main and iconic Copenhagen canals.
"The hidden gems tour" is about showing our favorite spots, which are off the beaten track from the standard path. These are the places we go and hang out in our spare time.
"The Diana tour" is the full-on experience which unveils the common misconception that Copenhagen was built for biking – it's not – It's built for sailing, and we explore every aspect.
Which one of  those tours are most popular?
So far, we have the best feedback from the "hidden gems" 2-hour tour.
Please tell us about your private tours.
On our private tours, we can customize the route depending on the group's desires. However, the guests usually leave it up to us. After a quick discussion with the group, we pick them a route we think they will find most engaging.
Do you offer seasonal tours?
We have 2 seasons -the summer (March-September), Autumn (October-December until Christmas). During each season, we adapt the boats to make sure our guests keep refreshed on the warmer days and cozy during the colder ones.
It also means we adapt our drinks selection. We have wine and soft drinks during the summer and hot chocolate and mulled wine during winter. Boats have convertible roofs, so we will also adapt that to the season.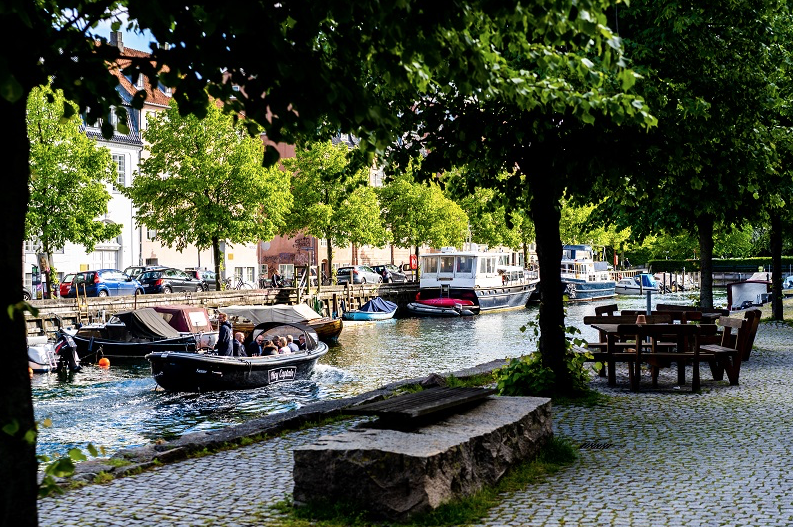 Do your tours depart daily?
We have daily, multiple departures, 7-days a week. Our season is between March to Christmas.
What can the Hey Captain traveler expect arriving at the dock?
You will be greeted by our 'Car Captain', our host on the dock. She/he will seat you in our departure area and allow the guests to introduce themselves to each other. From there, your Captain comes to introduce themselves, and then you make your way onto the boat.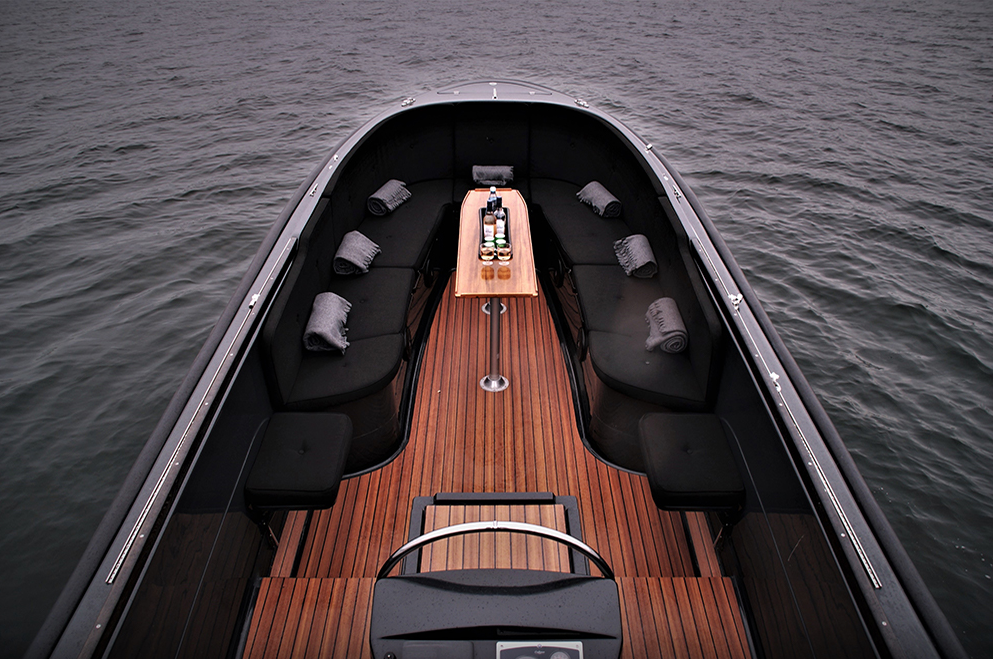 What's included in the tour?
We offer refreshments on board. Soft drinks, tea, coffee, etc. are free of charge. There is the opportunity to purchase a beer or glass of wine if you fancy at 40DKK per drink.
Do you still do canal tours during COVID times? If you do, how have you adjusted to the situation, and what measurements are you taking for your passengers to stay safe?
We are lucky that we can sail during COVID times and provide an hour or two to our guests, where we can have a break from the tough times.
We have implemented guidelines that follow the recommendations from the government to ensure everyone is safe, comfortable, and able to enjoy the tour.
Feel free to share a review or story from a happy customer.
We read and listen to all our feedback. We are also #1 rated outdoor activity in Copenhagen. We love all our reviews ?. I thought we'd share our most recent review. 'Maja' and her family, who are locals, came out sailing with us last month, this is what she had to say.
Last night we had the pleasure of a fantastic trip to Copenhagen harbor with Jonas and a super concept of social sailing. This is definitely not the last time, and I would recommend everyone to try a ride! #heycaptaincph #heycaptainmoment #socialsailing
What's your own personal favorite spot in Copenhagen?
No matter what time of year it is, I always love visiting the 'TreKronor' sea fortress that sits at the harbor entrance. It is such a unique spot. Even though it's only a short distance from the mainland, you feel far away from it all, a true oasis within Copenhagen.
What does the future hold for Hey Captain?
Our goal from day one has been to become the best canal tour in the world. Over the years, we have established that the way to get there is by becoming even better at making our boat tours social. That's what we are working on, what we want to become better at. It's making social sailing happen more often, and we become experts within social interaction in general.
What's the long term vision for Hey Captain?
The way we work meticulously with social interaction where we are using the tours as a test lab for new nudges will allow us to build a lot of knowledge about social interaction over time. We are already pretty good, but there is still a lot of room to get even better.
The thing is that a lot of academic research focuses on the importance of being social for your physical and mental health, but very few on the solutions for actually achieving it. This is where we come in. Maybe you could say that our end game is that we become an established social interaction institution recognized as experts within our field.
Our point is also that there is a lot of trends in society today that are working against this. People, focusing on self-realization being a lot on their phones, etc. We want to counterbalance this with more social interaction through social sailing.
Is there anything else you would like to share about Copenhagen or Hey Captain?
Come join us. You will love it. ?
Thank you Casper for sharing so willingly about Hey Captain, your boat tours and the people behind it.
Next time you go to Copenhagen, make sure to join Hey Captain and one of their boat tours.
Just want to let you know; some of my posts might contain affiliate links. If you buy something through those links, it will not cost you a penny more, but I might earn a commission. That will allow for this site to keep going. Thanks!