Swedish Christmas is a time for candles, cookies, and coziness. Family activities span over generations,  It all builds up to the big moment when Santa Clause himself shows up at your house.
Our home is a crazy mix of Swedish and American traditions. The Elf on the shelf hangs out with the straw goats. We watch a mix of Christmas movies on Hallmark and Julkalendern at SVT. The family visits picture-perfect Santa at the mall but also have him show up at the doorstep of our home. Advents candles are lit every Sunday but we do not necessarily go to church on Christmas Eve. Typing this, I realize my kids must be (happily) confused lol.
Let's start from the beginning. How do the Swedes get into the Christmas spirit?
Advent
Four Sundays before Christmas, the Swedes bring out their advent candle holder. We light one candle every Sunday up until Christmas.
When we first moved to the US, I couldn't find an advent candle holder, so my sweet husband made me one. Advent is usually the event that kicks off the holiday season, and we start decorating for Christmas, but the tree has to wait.
Julkalendern
Many Swedish kids and families enjoy a yearly tradition starting on December 1 when the first episode of the "Julkalendern", is aired. The show is usually a Christmas related TV show that airs daily from December 1 – 24. Along with the TV show, you have a calendar where you open one "lucka" window each day. A tradition started in 1960 by Swedish Television, and something families to this day enjoy.
This year's show is called "Mirakel", Miracles.
Lucia with Lights and Joy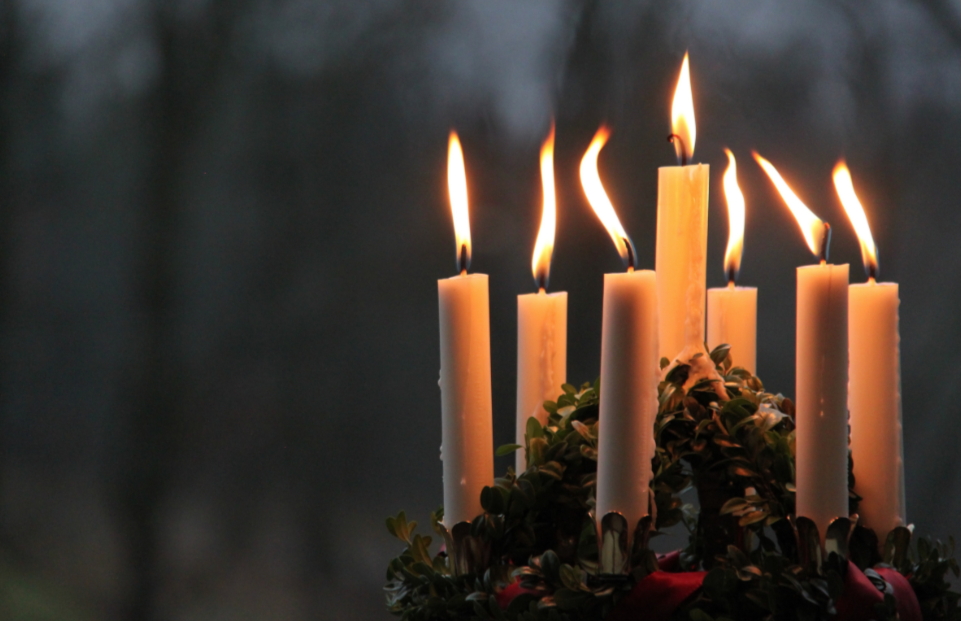 One of the more recognized Scandinavian traditions around the world is the celebration of Lucia on December 13th. Lucia brings light into the dark night and the Scandinavian homes. With her procession, she is spreading joy, hope, and beautiful singing.
Lucia is one of my personal favorite traditions, and I remember being young, getting up early in the morning getting to school. From school, we walked, with candles in our hands, breathing the cold air, to the local church. There was a silence, a moment of peace, and that special Christmas feeling that I will always remember celebrating Lucia.
Lucia performs at churches, schools, daycare, senior living, public places, indoor and outdoor. She is dressed in a traditional white gown, a crown of candles on her head, and a red sash. Behind her, she has the procession of "tärnor" holding candles, little Santa clauses, "stjärngossar" star boys, and sometimes even gingerbread cookies.
Lucia does not only bring light and joy. She often brings saffron buns and cookies as well.
The Lucia performance is a unique, traditional, and sometimes emotional experience that really sets the mood for Christmas.
Christmas Markets
Christmas lights, winter wonderland, snow depending on where you are at, and Christmas decorations, all while Swedish Christmas music is surrounding you. Another place to get into the Christmas spirit is to visit one of the many Christmas markets in Sweden. Drink a hot chocolate, enjoy the decorations and the Christmas atmosphere. Shop candy, food, crafts, unique art from one of the many stalls. If lucky, Santa might show up as well.
Most towns will put on their own Christmas markets. Here are a few of the more well-known places to enjoy a Swedish Christmas market:
• The Old town in Stockholm
• Skansen in Stockholm
• Liseberg amusement park in Gothenburg
• Jamtli in Östersund
The Day Before Christmas Eve – December 23, Decorate the Tree
Growing up in Sweden, we would always have a real tree, and it would not enter the house until December 23rd. (This has later changed.) That was the evening when Christmas music was playing, and ornaments hung on the tree. The family gathered around the tree, and the Christmas spirit was starting to settle in.
Preparations in the kitchen for Christmas Eve was in full action, and the expectations among the kids are building up. In Sweden, Christmas Eve is our big day to celebrate.
Swedish Christmas Eve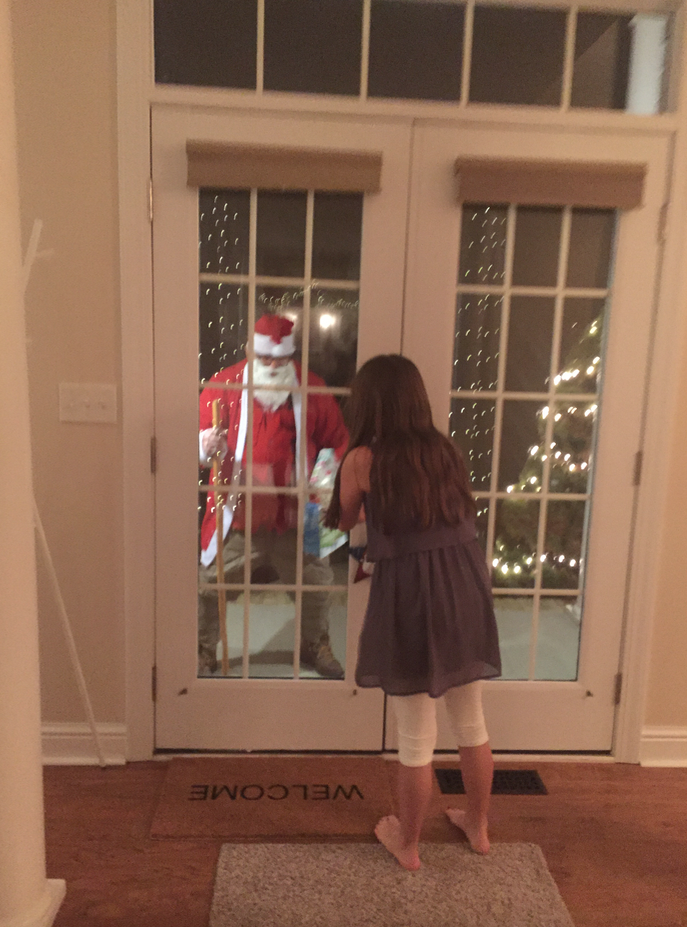 Waking up (early) Christmas Eve morning, Santa had been there to drop off a gift in the stocking. Now, this is not some fancy American Christmas stocking version. It was usually one of my soccer socks that I had hung on my door handle to my room. Santa has jammed a book in there to keep us entertained for the day. I guess I never questioned that he showed up at night and then came back later that day.
Having experienced both the Swedish and American traditions of Christmas, I now realized that my parents probably saw some American movie when I was little and figured – let's give the kids a sock in the morning. That will be a great way to keep them entertained for the day since Santa doesn't show up until late afternoon in Sweden. The wait and anticipation Christmas Eve, well, it was the longest day of the year until he finally showed up.
Yes, Santa actually shows up at the house. He comes out from the woods and brings gifts for the family. Sounds fun? Well, it is. But, those first years, you know when the kids are at the age of 3, 4, 5 years old. The kids are usually TERRIFIED. I remember hiding under the table, scared of Santa looking nothing like the movie Santa from the North Pole.
From All of Us to All of You
Now I'm getting ahead of myself. The Christmas eve celebration looks a lot alike in most Swedish families. The family gets together with grandparents, cousins, aunts, and uncles at 3 pm sharp. At 3 pm, EVERYBODY is seated in front of the TV to watch Walt Disney's Christmas Special, eat gingerbread cookies, and drink glogg. To watch Donald Duck and his friends is a tradition since 1960, and is still today, one of the most-watched program of the year in Sweden.
After the TV show, usually one of the family members has to go and buy milk or the newspaper… Unfortunately, this is always when Santa shows up and hands out the presents. What a coincidence.
For many adults, the following Christmas Eve dinner is the highlight of the day. This day is truly a day to celebrate family, spending time together and just have fun!
With the crazy times, we are all going through right now during the pandemic. I think back on my own Christmases growing up and get filled with gratitude. So thankful for my parents, brother, family, and friends. Those family get-togethers can not be taken for granted but will be appreciated even more during years to come.
Swedish Christmas Eve Dinner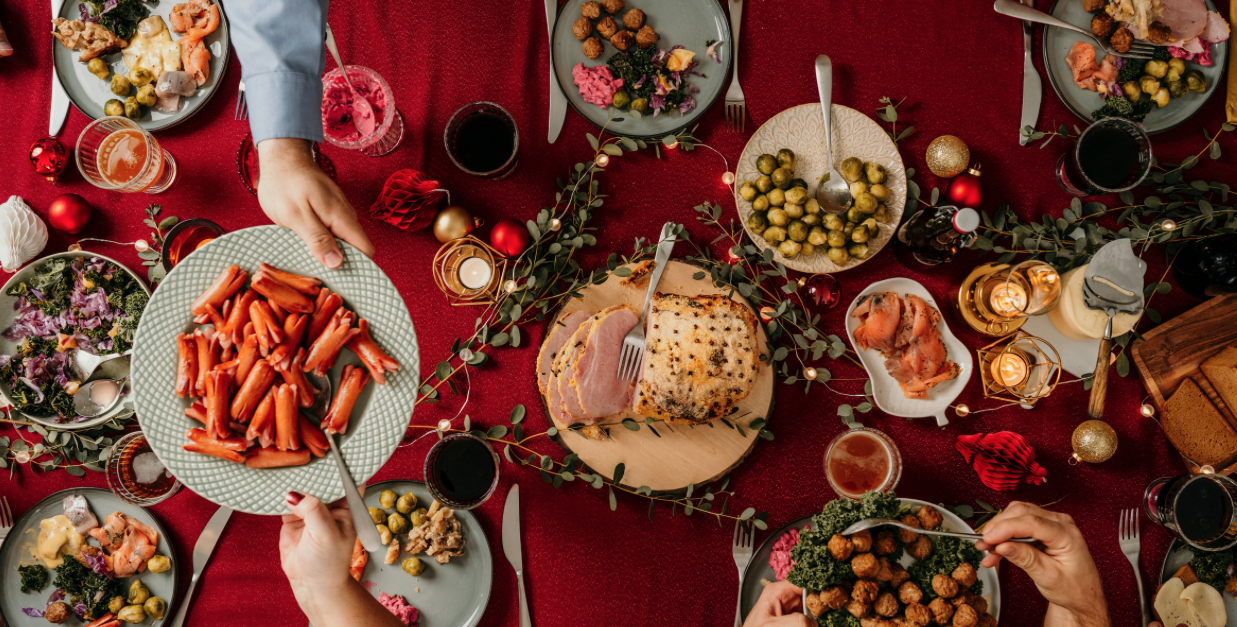 The Swedish Smorgasboard tradition is something that, here in the US, has become a Christmas Eve highlight with some of my friends. A little surprised by the dishes included, searching for the veggies and healthy alternatives. Christmas Eve is the day when the Scandinavian healthy living goes out the window, and we indulge in fish, meat, desserts, and excessive eating.
What's included in your smorgasbord depends on what part of Sweden you are from. Some items will be the same all over the country, but you will have local twists and additions depending on where you are from. I'm from the south part of Sweden, Skåne, and we will always include the following on our Christmas Eve smorgasbord;
Herring – three + different kinds
Salmon – two + different kinds
Egg
Ribs
Meatballs
Ham
Special little hot dogs, "prinskorv"
Scalloped potatoes (with herring) sorry should have notified everybody about that lol
Coleslaw red and sometimes brown
Bread and cheese
Ris ala malta rice pudding
Candy, chocolate, and other Christmas goodies
We drink "Julmust", which is a carbonated sweet drink, beer, and snaps for the adults who enjoy a shot. We eat way too much, and it's said that the shot balance out the fat in the food. Now, the scientific proof of that I am unsure of.
Some also include lutfisk, which is a dried fish put in water. We usually save that for a later day during the Christmas holiday.
We enjoy spending time with family and friends, eating good food, and having great conversations around the dinner table.
Christmas Day
Christmas Day, when in Sweden, we usually have dinner with extended family. When in the US, we have a big family and friends dinner on Christmas Eve, so Christmas day is for our family of four. This kind of always worked out well for our Swedish American mixed family since we can enjoy Christmas day morning American style with our kids where ever we are. Open gifts, spend family time in our PJs and enjoy the leftovers from our Swedish smorgasbord last night.
No matter where you are at in the world, bring in some Swedish Christmas traditions in your life. Enjoy the lights, decorations, music, and the food, but most importantly, quality time with the people you love.
God Jul & Merry Christmas to you all,
Just want to let you know; some of my posts might contain affiliate links. If you buy something through those links, it will not cost you a penny more, but I might earn a commission. That will allow for this site to keep going. Thanks!