Reykjavik is a unique and charming destination perfect for a Reykjavik City Walking Tour. The capital of Iceland offers visitors a glimpse into the country's rich culture, history, and natural wonders. Despite being a relatively small city with a population of around 130,000, Reykjavik is a vibrant and cosmopolitan urban center. The city boasts a thriving arts and music scene, innovative cuisine, and a laid-back Nordic vibe.
From its stunning modern architecture to its colorful traditional houses and charming streets, Reykjavik is a city that captivates and inspires. With its geothermal pools, dramatic landscapes, and proximity to some of Iceland's most famous natural attractions, such as the Blue Lagoon and the Golden Circle. Reykjavik is also a perfect base for exploring the country's otherworldly beauty. Whether you're interested in art and culture, outdoor adventures, or just soaking up the unique atmosphere of a Nordic capital, Reykjavik is a city that will leave you with unforgettable memories.
Reykjavik City Walking Tours
Reykjavik is a perfect city for walking tours, as it is relatively compact and easy to navigate on foot. There are several walking tours available that cover different areas and themes of the city. One example is the Reykjavik City Walking Tour. This is a general walking tour that covers the main sights. You will see landmarks of the city, such as Hallgrímskirkja church, the Harpa Concert Hall, and the Parliament building. The tour also includes some history and cultural insights about Reykjavik.
Most of the walking tours in Reykjavik are led by knowledgeable and friendly local guides who speak English and other languages. The tours usually last between 1.5 to 3 hours, but longer tours are available as well. Book your tours before traveling to Iceland. It can get busy especially during peak tourist season.
Reykjavik City Walking Tours – Expected Sights
Hallgrímskirkja a Must See on Your Reykjavik City Walking Tour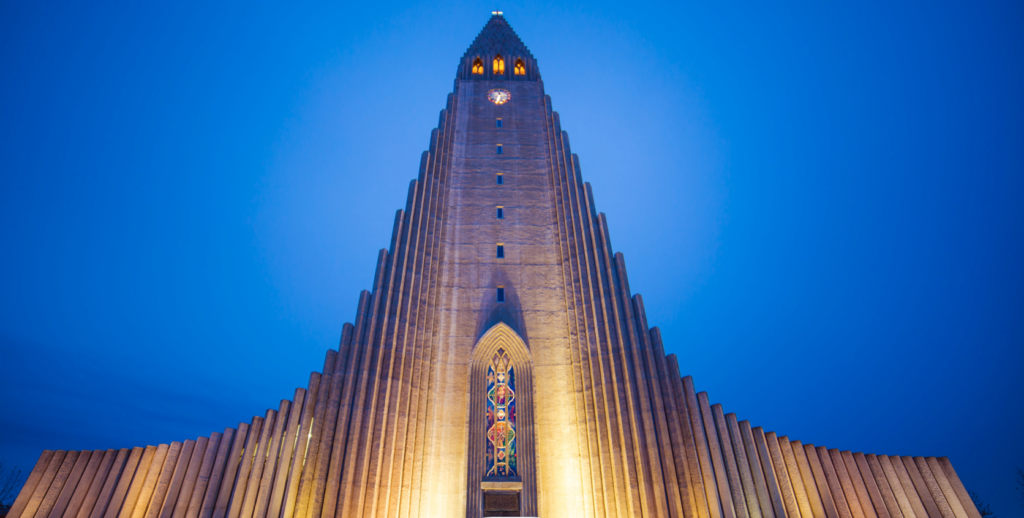 Hallgrímskirkja is a stunning and iconic Lutheran church located in the heart of Reykjavik, Iceland. It is one of the most famous landmarks in Reykjavik and one of the tallest buildings in the country. It is standing at 74.5 meters (244 feet) tall. The church was designed by Icelandic architect Guðjón Samúelsson. His inspiration for the design came from Iceland's volcanic landscapes and basalt columns.
Construction of the church began in 1945 and was completed in 1986, taking over 40 years to build. The exterior of the church is clad in white concrete and features a distinctive stepped design that is meant to evoke the rugged terrain of Iceland's glaciers. The interior of the church is equally impressive. It has a soaring nave that is lined with tall, narrow windows that flood the space with natural light.
One of the most striking features of the church is its massive pipe organ. It's the largest in Iceland and has 5275 pipes. The organ is housed on a balcony above the entrance and provides a stunning backdrop for the many concerts and musical events in the church.
Visitors can also take an elevator to the top of the church's bell tower. From here you get panoramic views of Reykjavik and the surrounding landscape. From the top of the tower, visitors gets a beautiful view over the city, all the way to nearby mountains and the ocean.
Hallgrímskirkja is open to visitors every day, and admission is free. However, there is a fee to ride the elevator to the top of the bell tower. The church is also an active place of worship, and visitors are asked to be respectful of any services or ceremonies that may be taking place during their visit.
Harpa Concert Hall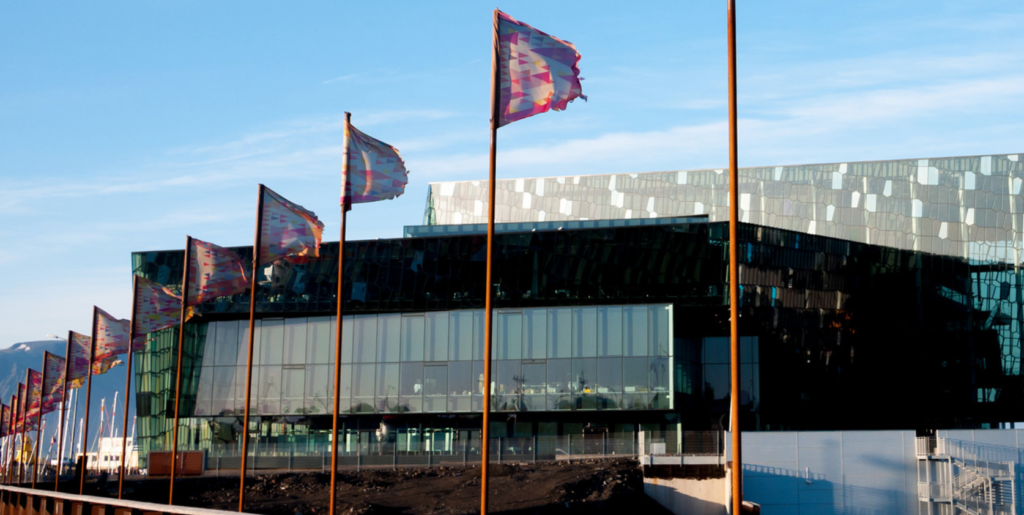 Harpa Concert Hall is a stunning architectural masterpiece located in the heart of Reykjavik. It is a world-class concert and conference venue and home to the Iceland Symphony Orchestra and the Icelandic Opera. The concert hall was designed by the Danish architectural firm Henning Larsen Architects in collaboration with Icelandic artist Ólafur Elíasson and opened in 2011.
The building's unique design is inspired by Iceland's volcanic landscapes and features a distinctive façade made of over 1000 geometric-shaped glass panels in different colors. These reflect the surrounding sky and sea. The interior of the concert hall hosts several halls and spaces that are designed to accommodate a wide range of events. You can experience intimate chamber concerts to large-scale conferences and exhibitions.
The main hall of the Harpa Concert Hall, Eldborg, is named after a nearby volcanic crater and has a capacity of up to 1800 seats. It is a state-of-the-art performance space with exceptional acoustics. It has hosted many world-renowned musicians and performers, such as Sting, Yo-Yo Ma, and Björk.
The Harpa Concert Hall is also home to several restaurants, cafes, and bars. Here you can enjoy a range of refreshments and local cuisine while taking in the stunning views of the surrounding harbor and mountains. The building also houses a variety of shops and boutiques that sell Icelandic handicrafts, souvenirs, and designer goods.
Guided tours of the Harpa Concert Hall are available daily. Visitors can learn about the history and design of the building and see some of its most impressive features up close. The concert hall is also a popular venue for events and festivals throughout the year. Events such as the Reykjavik International Film Festival and the Iceland Airwaves Music Festival are hosted there.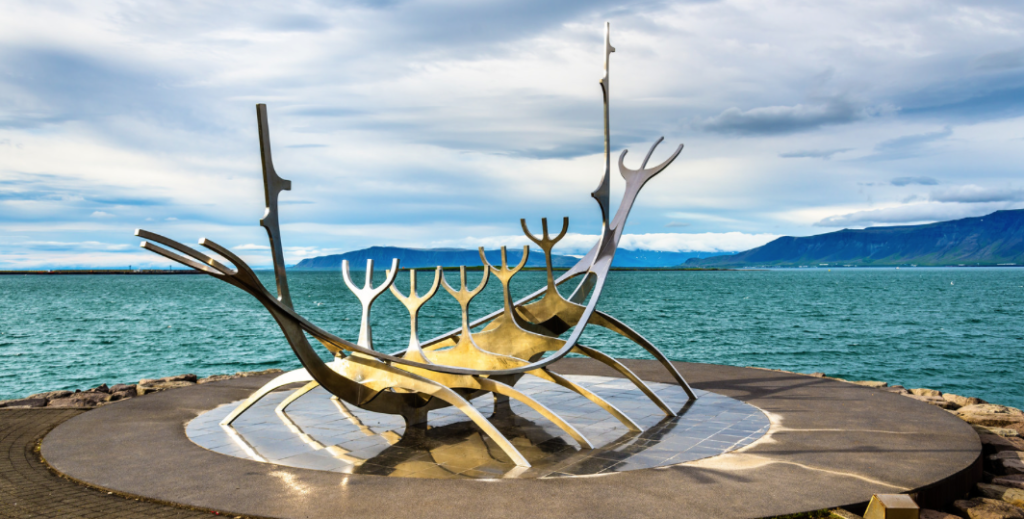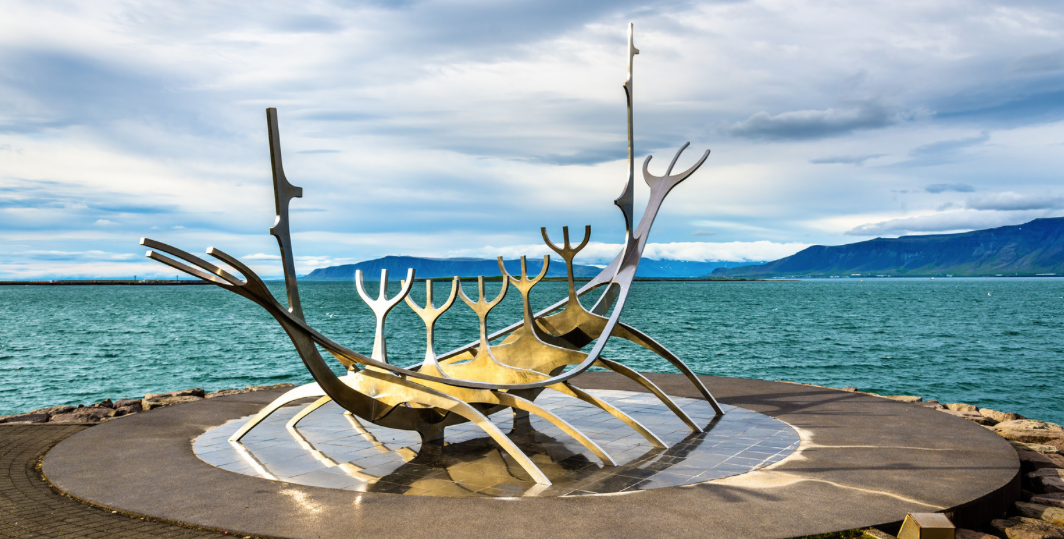 Austurvöllur Square with the Parliament Building
Austurvöllur Square is a large public square in the heart of Reykjavik. It is a popular gathering place for locals and visitors alike, and surrounded by many of the city's most iconic buildings and landmarks.
The square is named after the austurvöllur, a traditional Icelandic ball game that was played on the site in the past. Today, it is a bustling hub of activity and a popular destination for outdoor events, concerts, and protests.
One of the most prominent buildings on the square is the Parliament House. This is the seat of the Icelandic government and home to the Althingi, the country's parliament. The building is an impressive neoclassical structure built in the early 20th century and is open to the public for guided tours.
The square is also home to several cafes, restaurants, and bars. Visitors can enjoy a variety of local cuisine and drinks while taking in the lively atmosphere. During the summer, the square is often filled with street performers, artists, and musicians, adding to its vibrant and dynamic character.
Austurvöllur Square, is just a short walk from many of Reykjavik's other top attractions, such as the Reykjavik Cathedral and the National Museum of Iceland. It is easily accessible by public transportation. There are alsi several parking lots nearby for those traveling by car.
Reykjavik Food Walking Tours
Reykjavik is known for its unique and delicious cuisine. It includes many traditional Icelandic dishes made with fresh, locally sourced ingredients. Food tours in Reykjavik are a great way to explore the city's culinary scene and sample some of its most famous dishes.
One popular food tour is the Reykjavik Food Walk. Led by a local guide and takes visitors to some of the city's top food spots. The tour includes stops at a variety of restaurants, cafes, and food stands. Visitors can sample traditional Icelandic dishes such as fish and chips, smoked lamb, and skyr, a local yogurt-like dairy product.
Another popular food tour is the Reykjavik Beer and Food Tour. This tour combines food tastings with beer tastings at some of the city's top microbreweries and pubs. The tour includes a variety of Icelandic dishes, such as hot dogs, seafood, and lamb, paired with locally brewed beers and ciders.
For those who want a more personalized experience, private food tours are also available.Private tours can often be customized to suit individual tastes and preferences. These tours are led by local food experts and can include visits to artisanal bakeries, fish markets, and other food purveyors.
Food tours in Reykjavik are a great way to discover the city's culinary culture and learn more about its history and traditions. They are also a fun and social way to meet other travelers and enjoy the company of locals who are passionate about their food and drink.
Folklore Walking Tours in Reykjavik
Reykjavik is a city steeped in mythology and folklore, and several walking tours explore the rich history and legends of the city. These tours typically take visitors to the most significant sites in the city, providing an in-depth understanding of Iceland's cultural heritage.
Here are some popular folklore walking tours in Reykjavik. Hidden Worlds of Reykjavik: This tour is led by a local guide who takes visitors on a journey through Reykjavik's history, mythology, and folklore. The tour includes visits to historical landmarks such as the Parliament House, the old harbor, and the city's oldest cemetery.
Another one is the Ghosts, Sagas & Elves tour. This tour explores the supernatural side of Iceland's folklore. The tour takes visitors to locations that are believed to be haunted, including the infamous "White Lady" ghost of Reykjavik.
These tours are led by knowledgeable local guides who are passionate about Icelandic folklore and history. They offer a fascinating insight into the culture and traditions of Iceland. For anyone interested in learning more about the country's heritage, these tours are a must-try.
Viking Walking Tours in Reykjavik, Iceland
The Viking walking tours in Reykjavik offer visitors a chance to explore the city's Viking history and culture. Iceland was settled by Vikings in the 9th century, and their legacy is still visible in many parts of the country today.
The Viking walking tours typically take visitors to important historical sites such as the Viking longhouse, the Parliament site, and the site of the first Icelandic hot spring bath. Along the way, visitors learn about the Viking way of life, their traditions, and their impact on Icelandic culture.
Viking walking tours in Reykjavik include a visit to the most significant Viking sites in Reykjavik. This could include the Settlement Exhibition, which houses the remains of a Viking longhouse. Tours might also visit the Parliament site, the site of the first Icelandic hot spring bath, and the Hallgrímskirkja Church. The church was inspired by Viking ships and is one of Reykjavik's most iconic landmarks.
These tours are led by local guides who are passionate about Icelandic history and culture. They offer a unique insight into the Viking way of life and are a great way to learn about the country's fascinating history. If you're interested in Viking history and culture, a Viking walking tour in Reykjavik is a must-try.
Should You Pick a Private Tour, Small Group Tour, or Larger Group Tour?
Private Walking Tours
A private walking tour is a personalized tour that is designed for one person or a small group of people. Private tours are usually more expensive than group tours because they offer a more personalized experience.
Private tours allow you to choose the specific sites you want to visit and the pace at which you want to explore them. You will have a dedicated guide who can answer all your questions and provide a more in-depth understanding of the city.
Private tours are ideal for those who want a more personalized experience, families with young children, or those with specific interests or requirements.
Small Group Walking Tours
Small group walking tours are designed for a group of people typically ranging from 2-12 individuals. These tours offer a more intimate experience compared to larger groups and are usually more affordable than private tours.
The guide can give more personalized attention to each individual in the group. Small group tours typically have set itineraries but may allow for some flexibility to accommodate individual interests. Small group tours are ideal for those who want a more personalized experience than a larger group tour but do not want to pay the cost of a private tour.
Larger Group Walking Tours
Larger group walking tours are designed for groups of people ranging from 12-30 individuals. These tours are usually the most affordable option and offer the opportunity to meet and interact with other travelers.
However, larger groups may limit the amount of attention each individual receives from the guide. The pace of the tour may be slower due to the larger number of people. Larger group tours typically follow a set itinerary. Larger group tours are ideal for those on a budget or for those who want to meet other travelers.
Good to Know Before You Go – Reykjavik
Visiting Reykjavik can be a truly unique and unforgettable experience. Here are some things you might want to know before you go.
When to Visit Reykjavik
Iceland is an all-year-round destination. The best time to visit Iceland depends on your travel preferences and what you want to experience during your trip.
Summer is a popular time to visit, as the weather is generally mild and the days are long with almost 24 hours of daylight. It's the perfect time for hiking, exploring glaciers, and enjoying the beautiful scenery. Fall is a beautiful time to visit as the fall colors start to appear and the weather is still relatively mild. The Northern Lights also start to make an appearance during this time.
Winter in Iceland is cold, dark, and snowy, but it's also the best time to see the Northern Lights. Winter is also the time for winter sports such as snowmobiling and icefishing. Spring as the snow starts to melt, and the days start to get longer, this is a great time for exploring Iceland's waterfalls and hot springs.
Getting Around Reykjavik and Iceland
Reykjavik is a relatively small city and is easy to explore on foot. However, if you want to venture outside the city, renting a car is a good option. You can also use public transportation, or join a guided tour taking you outside of Reykjavik.
Reykjavik Accommodation
There are many options for accommodation in Reykjavik, including hotels, hostels, guesthouses, and Airbnb.
Food and Drinks in Reykjavik
Reykjavik has a vibrant food and drink scene, with many excellent restaurants, bars, and cafes. Some traditional Icelandic dishes to try include smoked lamb, skyr (a type of yogurt), and fermented shark.
Overall, Reykjavik is a unique and fascinating destination that offers a lot to see and do. Whether you're interested in natural wonders, art, and culture, or just exploring a new city, Reykjavik is worth a visit.
Just want to let you know; some of my posts might contain affiliate links. If you buy something through those links, it will not cost you a penny more, but I might earn a commission. That will allow for this site to keep going. Thanks!