The best time to visit Norway depends on what you want to do and experience. The summer months of June through August are the warmest and have the longest days. This makes them a great time to explore the fjords and mountains. However, they are also the busiest tourist season. If you prefer fewer crowds and lower prices, consider visiting in the shoulder seasons of May or September. 
The winter months of December through February offer the opportunity to experience the Northern Lights and winter activities and be prepared for cold temperatures and short days. Overall, the best time to visit Norway will be dependent on what you want to do, see and experience.
Personally, I'm a big fan of skiing, so visiting Norway in the winter is something I truly enjoy. 
4 Seasons in Norway
Norway has four distinct seasons: spring, summer, autumn, and winter.
Spring (April to May) is a time of renewal, with snow melting and new growth emerging. The days start to get longer, and temperatures begin to rise.
Summer (June to August) is the warmest season, with long days and mild temperatures. A good time for hiking, fishing, and other outdoor activities.
Autumn (September to November) is a time of transition, with cool temperatures and shorter days. The leaves on the trees change color, creating a beautiful display.
Winter (December to March) is the coldest season, with long nights and snowfall. Skiing, husky rides, snowmobiling, and other winter sports are available this time of year.
No matter the season, outdoor activities are enjoyed all-year-round by the Norwegians.
Winter Activities to enjoy in Norway
Since the best time to visit Norway is depending on what you want to do, let's dive into the different winter activities available.
There are many outdoor winter activities to enjoy in Norway, such as:
Skiing and snowboarding: Norway is home to many ski resorts, both large and small, offering a wide range of slopes for skiers and snowboarders of all abilities.

Cross-country skiing: Norway's vast expanses of the snow-covered countryside are perfect for cross-country skiing, with many groomed trails to explore.

Snowshoeing: Snowshoeing is a great way to explore the wilderness and see Norway's winter landscapes.

Dog sledding: Experience the thrill of dog sledding and travel through the snowy wilderness with a team of huskies.

Snowmobiling: Snowmobiling is a popular way to explore the snowy wilderness and mountains in Norway, and it can be a fun and adventurous way to explore.

Ice fishing: many lakes and fjords offer excellent ice fishing opportunities, with a chance to catch trout, salmon, and other fish.

Aurora hunting: Norway is one of the best places in the world to see the Northern Lights, and winter is the best time to view them.

Winter hiking: mountains and fjords can be explored on foot in the winter with the right gear, and it can be a unique and peaceful experience.
Spring, Summer, and Fall Activities in Norway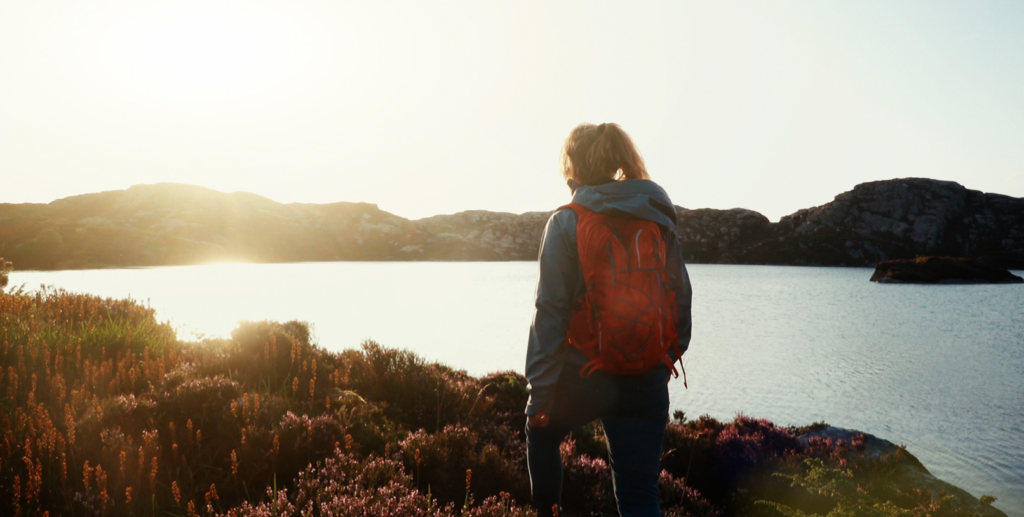 Some fun activities that can be done pretty much all year round depending on where in Norway you are at:
Hiking: The warmer months are a great time to hike in Norway

Fishing: Norway's rivers and lakes are teeming with fish, and fishing is a popular pastime in the summer.

Biking/Mountain Biking: many bike trails and roads are great for exploring in the spring, summer, and fall with beautiful scenery and mild temperatures.

Kayaking and canoeing: Norway's many fjords, lakes, and rivers are great for exploring by kayak or canoe.
Spring Activities
Spring, when everything comes to life, is an amazing time to explore nature in Norway. Enjoy some of these fun events:
Bird watching: Spring is the time when many migratory birds return to Norway, making it a great time for bird watching.

Fishing: Spring is also a good time for fishing as the fish start to become active in the rivers and lakes.

Boating: The ice is melting on the fjords and lakes, making it a perfect time to go boating and sailing.

Maple Syrup Festival: Many parts of Norway hold festivals to celebrate the tapping of the maple trees and the production of maple syrup.

17 May Celebrations: Many towns and villages in Norway celebrate the national day, May 17, with traditional parades and events.
Summer Activities 
Summer is the favorite season for many visiting Norway, and understandably so. 
Camping: Norway's mountains and fjords offer many hiking and camping opportunities, with beautiful scenery.

Swimming and sunbathing: Norway has many beaches and lakes where you can swim and sunbathe in the summer.

Boating: Boating and sailing are popular activities in the summer, with many marinas and boat rentals available.

Music festivals: Norway hosts many music festivals during the summer, with a wide range of genres and performers.

Cultural events: the country has many cultural events happening during the summer, including traditional folk festivals and modern art festivals.

Midnight Sun: Norway is located far north, and in the summer months, the sun never sets, allowing you to enjoy nature during the whole day.
Fall Activities
The fall can be beautiful in Norway when the trees and nature change colors. Here are some fun outdoor activities to enjoy during that time:
Berries and mushroom picking: Fall is the perfect time to pick wild berries and mushrooms in the forest, which are used for cooking or preserving.

Sightseeing: The fall foliage in Norway is beautiful, and it's a great time to take a drive or a train ride to see the country's natural scenery.

Apple picking: Many farms in Norway offer apple picking in the fall.

Autumn festivals: Many towns and villages in Norway host autumn festivals celebrating the harvest, with food, music, and other activities.
Visit Norway with Fewer Crowds
The best time to visit Norway to avoid crowds is typical during the shoulder seasons of spring and fall. These seasons, usually around April/May and September/October, offer milder weather and fewer tourists than the peak summer months. Keep in mind, that some popular destinations, such as Oslo, the capital, and the fjord regions, can be visited year-round.
Norwegian Cities and the Best Times to Visit
Oslo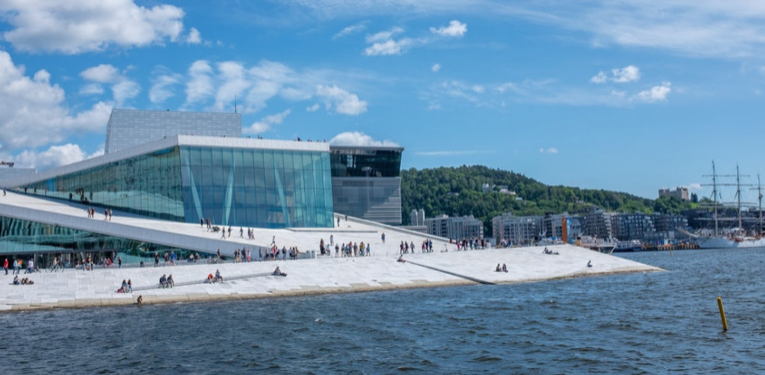 If you want to experience Oslo's many outdoor festivals and events, the summer months of June to August are ideal. The weather is warm and pleasant during this time, making it perfect for exploring the city's parks and outdoor spaces.
For milder weather and fewer crowds, the shoulder seasons of spring and fall would be a good choice. The city's gardens and parks are particularly beautiful during these seasons. You will also be able to take advantage of lower hotel rates in Oslo.
Keep in mind, that the winter months, from December to February/March, can be quite cold and dark. But, it's a great time to visit Oslo if you're interested in the Christmas markets, ice skating, and skiing.
Fjord Norway – Bergen, Stavanger, Ålesund
Fjord Norway is a region in western part of Norway known for its stunning fjords. Fjords are long, narrow inlets of the sea that are surrounded by tall mountains and steep cliffs. They were formed by glaciers during the ice age. 
The region of Fjord Norway is home to some of the most famous and picturesque fjords in Norway. Some of the most famous ones are the Geirangerfjord, the Nærøyfjord, and the Sognefjord.
Fjord Norway offers visitors a variety of activities, including hiking, fishing, kayaking, and skiing. The area is also known for its rich cultural heritage, with many historic villages and farms, and traditional wooden churches, Stave churches. The region's towns, such as Bergen, Ålesund, and Stavanger, offer a mix of modern amenities and historical sites. Fjord Norway is a popular destination all year round for outdoor enthusiasts, as the region offers excellent opportunities for outdoor activities.
Tromsø
Tromsø in the winter is a unique and magical experience. The city is located in the Arctic Circle, so it experiences long hours of darkness, and the Northern Lights are often visible in the sky. The winter season in Tromsø starts around November and lasts until the end of March. Average temperatures during this time range from -10 to -20 degrees Celsius, but it can get colder and it is important to dress warmly.
During the winter, Tromsø offers a variety of activities for visitors to enjoy. Some of these include:
Viewing the Northern Lights: Tromsø is one of the best places in the world to see the aurora borealis, and many tour operators offer guided Northern Lights tours by bus, boat, or even dog sled.

Winter sports: Tromsø offers excellent opportunities for cross-country skiing, downhill skiing, and snowmobiling.

Dog sledding: Tromsø is a great place to experience the traditional Sami method of transportation.

Snowshoeing and ice fishing: These are also popular winter activities in Tromsø.

Visiting the Arctic Cathedral: is a modern architectural landmark of Tromso and a popular spot for tourists.
Best time to Visit Norway – Weather
Norwegians are known for being resilient and adaptable to their country's often harsh weather conditions. They have a strong outdoor culture and enjoy activities such as skiing and hiking despite the cold temperatures. They also have a saying "there's no such thing as bad weather, just bad clothing," which reflects their attitude of not letting the weather stop them from enjoying the outdoors. Overall, Norwegians tend to have a positive attitude towards their weather and see it as a part of their country's natural beauty.
Rain
Norway is known for having a high amount of rainfall, especially in the western part of the country. The western coast of Norway, including cities like Bergen, is one of the rainiest regions in Europe. The rain is distributed throughout the year, but if you want to try and avoid some of the rain April, May, June, and July are the best months to go.
However, it's not raining all the time, and the country also experiences sunny periods, especially during the summer months. It's worth mentioning that, as the weather can vary greatly depending on location, the amount of rainfall can be different in different regions of Norway. Pack an umbrella and a rain jacket, and you are good to go.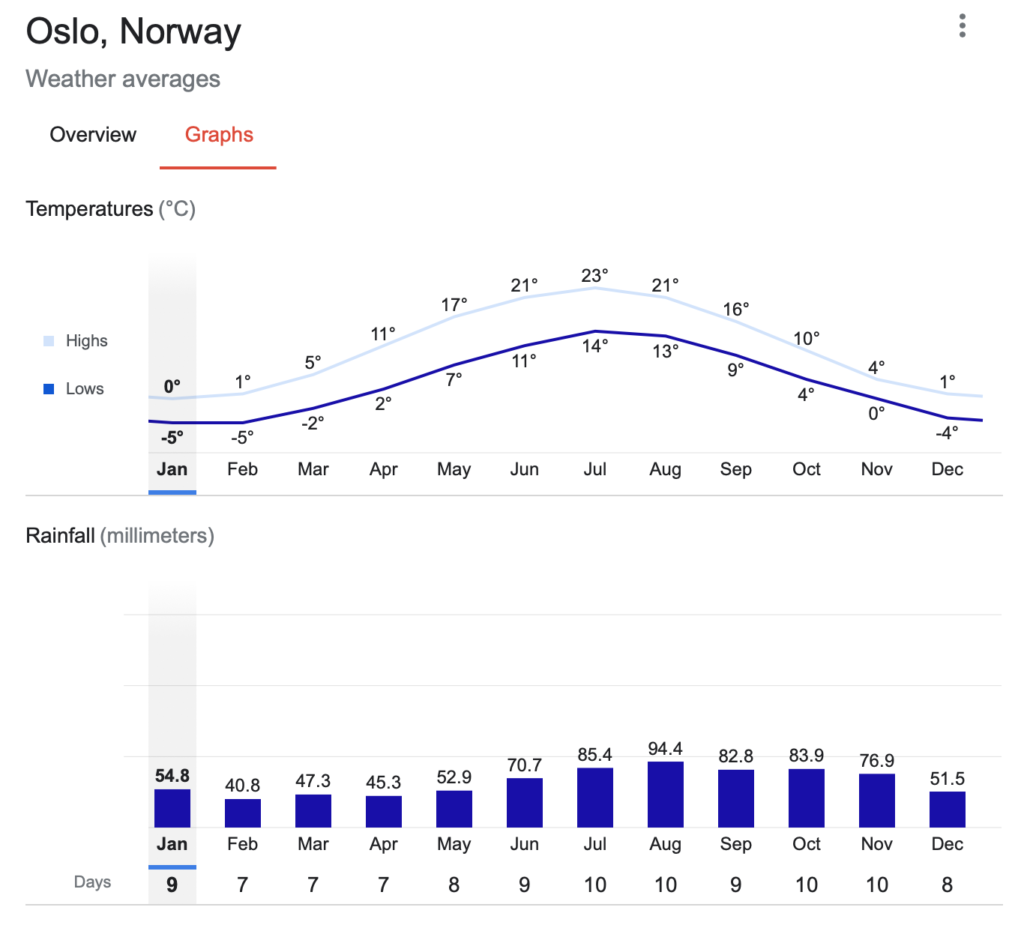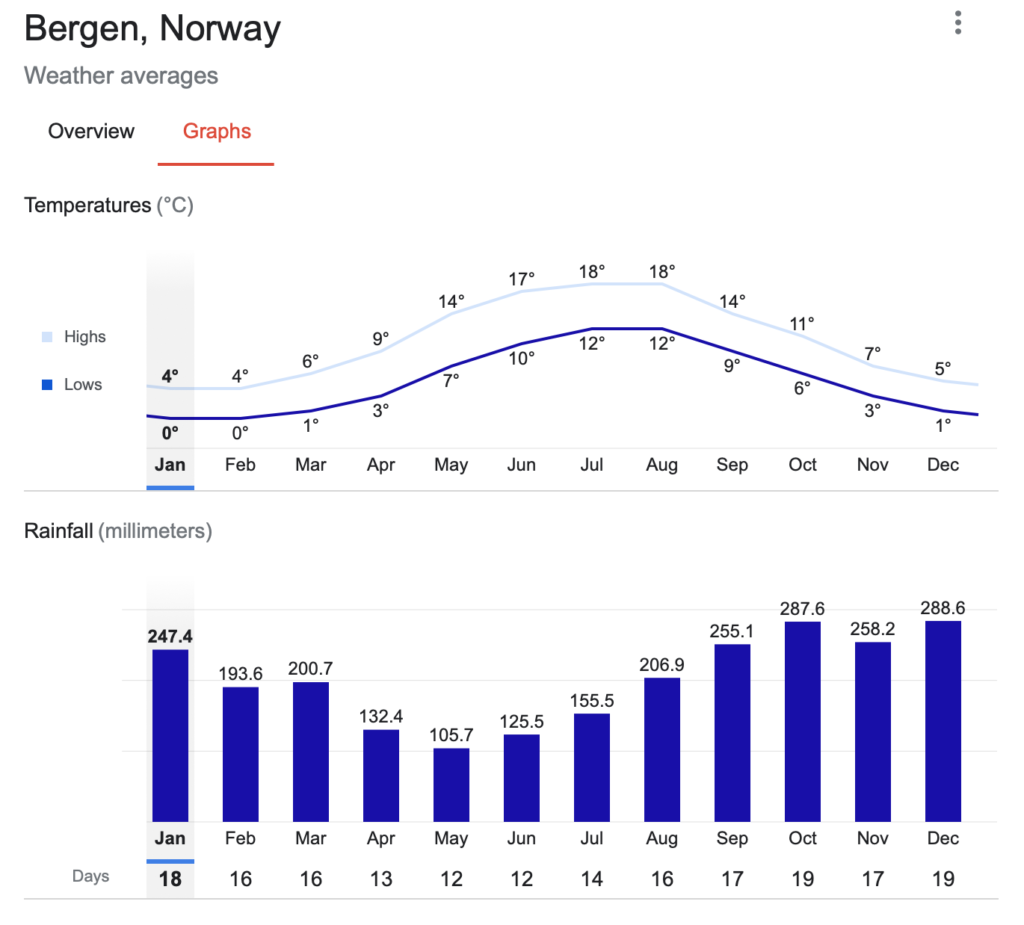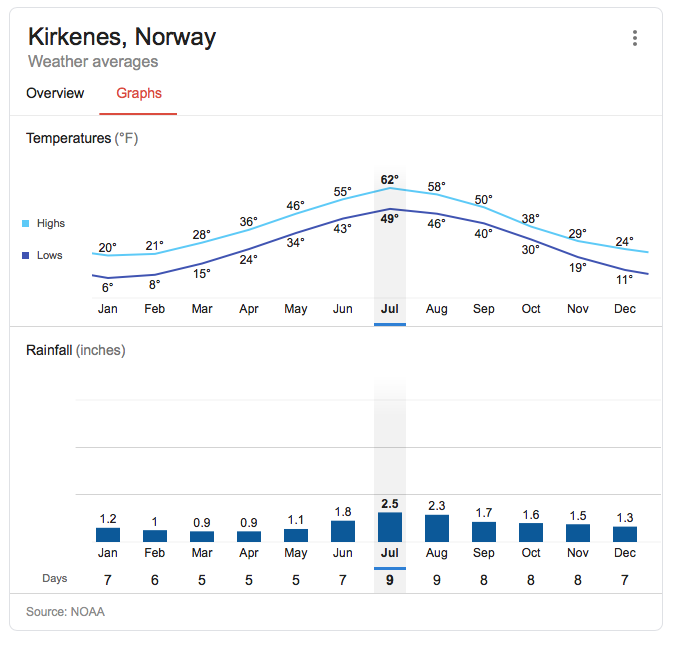 Temperatures
The temperatures in Norway vary depending on the season and location. Summer temperatures can reach around 25°C (77°F) in the southern parts of the country. While in the winter, temperatures in extreme cases can drop as low as -40°C (-40°F) in the northern regions.
The coastal areas tend to have a milder climate compared to inland regions. Overall, the temperatures in Norway are influenced by the Gulf Stream, which helps to keep the country relatively mild despite its northern location.
Natural Phenomenal Northern Lights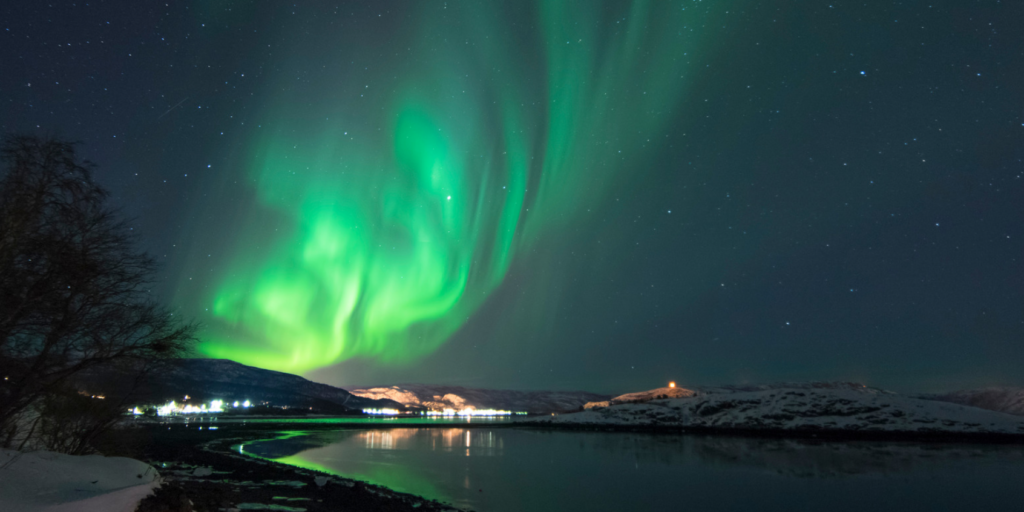 The Northern Lights, also known as the aurora borealis, are a natural light display in the Earth's sky. They are predominantly seen in the high-latitude regions (around the Arctic and Antarctic). In Norway, the Northern Lights can be seen in the northern and central parts of the country, such as Tromsø, Alta, and Trondheim. You can see the light during the winter months from September to April, with peak activity between October and March. 
The northern lights appear in many colors, but pale greenish-bluish and pink are the most common. The lights are caused by solar particles colliding with atoms and molecules in the Earth's atmosphere. The strength of the aurora is measured by the Kp index, which is used to predict auroral activity. It's best to view the Northern Lights away from city lights, in a location with clear and dark skies.
Midnight Sun
The midnight sun is a phenomenon that occurs during the summer months in Norway, and other parts of the Arctic Circle, where the sun remains visible at the local midnight. This occurs because the tilt of the Earth's axis is such that the polar regions experience extended periods of daylight during the summer months. 
In Norway, you can experience the midnight sun in the northernmost parts of the country, such as Tromsø, during the months of June and July. The exact dates of the midnight sun vary depending on location, but it typically lasts for several weeks to a month. Make sure to bring an eye mask to block out the light while sleeping.
I hope this article was helpful for you to figure out when the best time to visit Norway for you and your loved ones.
Just want to let you know; some of my posts might contain affiliate links. If you buy something through those links, it will not cost you a penny more, but I might earn a commission. That will allow for this site to keep going. Thanks!