Empty shops and restaurants at the airport. People in facemasks and mandatory COVID testing. It was for sure a different experience traveling during COVID-19. From Ohio, USA, to Sweden, we did make it after all.
At the time of travel, both America's and Sweden's borders were closed. But, essential travel along with having both Swedish and American citizenship, made the trip possible during these times.
Ohio to Sweden is a trip that we usually make once or twice a year and have done for the last 15 years. But I must say this time it was a lot different, traveling during the corona pandemic is an unusual experience for sure.
Let me share our experience traveling during the COVID pandemic, in March of 2021…
Traveling During COVID-19, Our Trip with Delta and KLM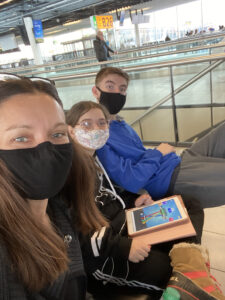 We flew out of Cleveland, Ohio, via Detroit and Amsterdam to Copenhagen, Denmark. During normal circumstances, I would never have this many layovers. Due to the limited routes, this seemed like the best option when booking the flight, a couple of months back.
At the time of booking, they said that flying through Amsterdam was one of the better options. At the time of flying, Amsterdam was one of the more difficult destinations in Europe, with strict rules, to transfer through.
Testing Requirements
Amsterdam required PCR COVID testing 72 hours prior to traveling + a rapid test before boarding the airplane. I wish that Delta was better at communicating what that meant. Destination-specific information is also something that I missed. I called Delta on a couple of occasions and talked to different staff members, asking for clarification regarding the COVID restrictions. But, they had the same information I could get on their website, no additional information at all.
The COVID testing facilities around where we live could not guarantee that we got the testing results in time, so we drove to the airport to have our COVID testing done 72 hours prior to departing Cleveland. While at the airport, I asked if my 12-year-old had to do the PCR testing, and they said yes. We did the testing, paid $430 for the three of us, and thought everything was in order.
We got the PCR testing result in time for departing Cleveland, so that was a relief. The additional mandatory rapid test needed for Amsterdam, could not be done in Cleveland, our starting destination. That test had to be done in Detroit. When checking-in in Cleveland, they couldn't provide any information on where the testing would take place.
Cleveland – Detroit
The Cleveland to Detroit flight was pretty packed. It was a smaller aircraft with two seats on each side of the aisle. The promised empty seat that Delta talks about was not available in my case. My kids were sitting together, but I was seated beside another passenger. After discussing this with the flight attendants, they were helpful and moved me to the last seat, with an empty seat beside me. After a short flight, we landed in Detroit.
Amsterdam Requirements, Traveling During COVID-19
We had a few hours in Detroit to deal with the COVID testing. Since that did take a little bit of time, that was a good thing. The testing was done right by the departure gate for Amsterdam, which made it easy.
Regarding the 72-hour testing, make sure you know when that needs to take place. We showed up at the COVID testing area by the gate, and they said that the testing we had done was too old. It had to be done 72 hours before landing in Amsterdam. If you have domestic connections, I have no idea, time-wise, how this is even possible to get done in time in the US. Many testing facilities provide results between 48 – 72 hours after testing.
The second thing we found out at the testing area was that my 12-year-old did not need the COVID test. Everyone 13 and older boarding the Amsterdam plane is required to do COVID testing. So, the testing we had done 72 hours before traveling was not valid, plus my daughter didn't need to have it done. Now, testing is not a bad thing. But I do wish that we would have gotten accurate information from Delta when calling.
So, there we are, standing by the Amsterdam gate in Detroit with invalid testing. The lady working for Delta said; give me a minute. She went over to her computer, pushed some buttons, and came back smiling with a note that said PCR / Rapid tests. Luckily we could get both tests done right there. Not sure if she felt bad for us or if this is something they do every time this happens. I'm guessing we can't be the first ones miscalculating the 72-hour requirement.
Delta COVID Testing in Detroit
Delta had a good system in place. You scan a code, fill out your information, get your test done and wait for the result. In the waiting area, you fill out some more paperwork for Amsterdam (which they never checked, at least not for transit passengers) and waited for your test result that took about 15 minutes. When you got your COVID-result and approved sticker from Delta, you were good to go. You could now walk around the terminal as usual.
Detroit – Amsterdam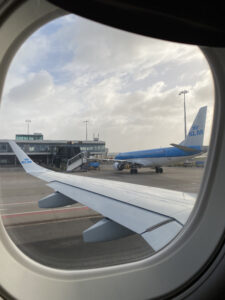 The Detroit to Amsterdam aircraft was a larger plane with plenty of room. The service was good, and they served meals as usual – the classic chicken and pasta. There was plenty of space, and we could stretch out, get our own rows to lay down, and relax throughout the flight. Except for my daughter getting stomach sick, which she always does flying, it was a pleasant flight.
Going through customs in Amsterdam was pretty easy. They asked some standard questions about the reason for flying, but they did not ask to see any of the COVID documents.
Amsterdam – Copenhagen
The flight from Amsterdam to Copenhagen was again a smaller aircraft, and it was pretty full. It seemed like everybody got an empty seat beside them if wanted. Landing in Copenhagen, Denmark, everybody older than 15 got tested for COVID, and nobody could leave the waiting area before receiving their negative results.
Kastrup Copenhagen airport was probably the biggest surprise during this trip. The usually lively airport was like a ghost town. It was quiet, and very few planes arrived and departed from the Copenhagen airport.
Customs in Denmark had some questions for us. My Swedish passport was valid, but my kids' Swedish passports had expired. With their American passport, along with their Swedish one, as proof of citizenship, they let us in. In addition, they asked about the reason for travel, letting me know that the border between Denmark and Sweden was closed. After a short conversation, the lady welcomed us home, and we could continue the last part of our journey.
Copenhagen, Denmark – Sweden
Since the border was closed between Denmark and Sweden, the easiest way to get to Sweden was to take the train over the Oresund bridge. The train was almost empty, only one other person crossing over to Sweden that we saw.
When arriving on the Swedish side, border control police got on the train and checked documents for anybody traveling. Are you dual citizens they asked when they saw both the Swedish and American passports? That was it. A few more stops, and we finally reach our destination in Sweden.
3 COVID tests, 3 flights, and 3 countries later, we made it to Sweden.
It has been a different trip, one that involved a little more preparation than usual. But regardless, we are very excited to be in Sweden. I can't wait to share more pictures and stories from our adventure here in Scandinavia. To show you around my old hometown, from beautiful nature to colorful buildings and houses. Let the adventure begin 🙂
Note: This was our experience. requirements and rules changes constantly so check the regulations before it's time for you to travel.
Just want to let you know; some of my posts might contain affiliate links. If you buy something through those links, it will not cost you a penny more, but I might earn a commission. That will allow for this site to keep going. Thanks!